This is where all the fun begins – choosing the perfect theme. To jump-start your party planning, you have to make one of the most important decision by choosing the theme. Basically, the theme dictates the over-all mood of the party and it'll be easier to pull together everything once you have finalized the theme. From the colors and decors to your giveaways and dessert offerings, every arrow should point to the same direction. Remember, simplicity is the ultimate form of sophistication. Avoid going overboard by injecting too much details that will not complement your theme because there's a very fine line between a beautiful mess and just plain messy!
The thing I love most about parties, especially children's parties, is that you can go with a lot of ways and have fun with it. Whether you're up for a splash of happy colors or you choose to have a more subtle and elegant celebration, the bottom line is that there are no strict rules when it comes to throwing the perfect party. From the usual cartoon characters we have grown to love, here are 5 more kiddie party theme ideas that will surely give your party a unique twist.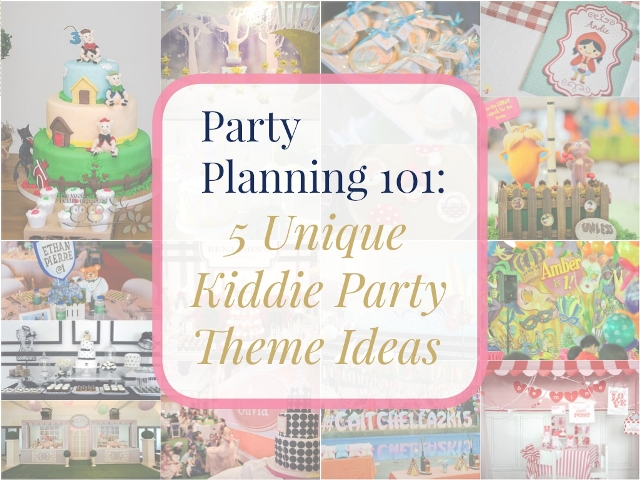 Books-themed Party
What's not to love? From our beloved classic children's books to present day fantasy novels, even some of the longest-running comic strips are here to give us a glimpse of their world through these parties.

Links: Wizard of Oz / Where the Wild Things Are / The Very Hungry Caterpillar / The Little Prince
Links:
Guess How Much I Love You
/
Little Red Riding Hood
/
Little Red Riding Hood (2)
/
The Lorax
Links:
Free Printables via HWTM
Links:
The Great Gatsby
/
The Hobbit
/
Harry Potter
/
The Hunger Games
Link:
Calvin and Hobbes
Link:
Charlie Brown and the Gang
Toys-themed party
Here's something that will surely make your kids happy. From his first car to her favorite doll house, even her first stuffed toy comes to life with these parties.

Links:
Play-Doh
/
Transportation
/
Paper Dolls
/
Super Heroes
/
Bunny
Links:
Rubber Ducky
/
Elephant
/
Play Kitchen
/
Crayon
Links:
Swing
/
Robot
/
Kite
Link:
Doodle Art
Nursery Rhymes-themed party
Remember those nursery rhymes you love to read / sing to your little ones? Their playful graphics and catchy lyrics will give you plenty of inspiration to get your creative juice flowing.

Links: The Three Little Pigs and The Big Bad Wolf / Twinkle Twinkle Little Star / You are My Sunshine
Links:
Little Lamb
/
Barnyard
/
Mother Goose
/
Goldilocks and the Three Bears
Seasonal-themed party
Here's a perfect way to get into the spirit of the holiday season. Whether you're having a Valentine's day-themed party in February, Back-to-school bash in June or Halloween Spookfest in November, give your guests the greatest experience by throwing these seasonal-themed parties.

Links:
Summer
/
Mardi Gras
/
Coachella
/
Cupid
Link:
Halloween
Links:
Back to School
/
Santa's Workshop
/
Cinco De Mayo
/
Winter Wonderland
/
Summer Picnic
Link:
Pista sa Nayon
Link:
Colorful Raindrops
Designer/Brands-themed party
Because inspirations can be found everywhere, parties inspired by some of the most well-known designer brands are also going mainstream. Calling all fashionistas!

Links: Ralph Lauren / Burberry / Kate Spade / Ladurée / Chanel
Links:
Lilly Pulitzer
/ Porkchop and Friends /
Tiffany & Co.
/
Polo
/
Krispy Kreme
There's only a few more days left until the much awaited party fair – the Sky Celebrations Fair Year 3! Meet some of the industry well-known suppliers under one roof. Party planning made easy, thanks to Sky Cable. I hope to see you there.