If you have a theme in mind or probably just an inspiration, and you want to make it happen as precise and as creative as you are imagining it, then an Event Stylist is what you need! These extremely creative professionals will fill your event with details and elements that you (and your guests) will surely love and adore. Plus, it will save you from all the hassle and worries.
In this day and age, we no longer look for the traditional type of event styling. Event goers are now expecting innovative designs and decorations, something that will blow their minds. Good thing, there's a new breed of Event Stylists who can envision and conceptualize your inspiration and dramatically transform your event in a snap of a finger.
Why is it important to have an Event Stylist?
Event Stylists are the ones responsible in setting up the mood or vibe of your event. Their aim is for your event to be visually stunning, with a display of aesthetic details that are Instagram-worthy. They also create a personal brand for your event to stand-out and will set it apart from the others.
It is the Event Stylists duty to:
Ø make sure all the elements complement the theme;
Ø ensure there is fluidity in terms of the elements used;
Ø create details that achieves a look or feel, specific to the theme.
What they do?
The primary and most important task of an Event Stylist is to completely transform your ordinary venue into a remarkable and memorable one.
Event Stylists
Ø meet clients and vendors to decide/make arrangements and to set the budget for the décor.
Ø decorates the event place to create a positive impression.
In most cases, Event Stylists takes care of the following to achieve a visual impact:
Ø Entrance decoration
Ø Ceiling decoration
Ø Stage set-up
Ø Table centerpieces
Ø Dessert table decoration
Ø Flowers
Ø Overall props
How to choose the right stylist for you?
1. Search for an Event Stylist that will suit your event: a stylist that specializes in a specific type of event; or your particular theme or inspiration; or your styling preference (minimalist, balloon-filled, etc.)
2. Read through blogs and sites to learn more about the Event Stylists: good reviews from past clients will help you decide and have peace of mind.
3. Set your budget: imagine how big you want your party to be. Determine your spending limit. Then from the list of the Event Stylists that you have, see who can work with your budget.
4. Meet the Team: find time to get to know them personally and see who you think can work well with you. You'll know it's a perfect fit when you jive at the first meeting.
To get you started, here are some event stylists we have worked with under Party Doll Manila Events: (in no particular order)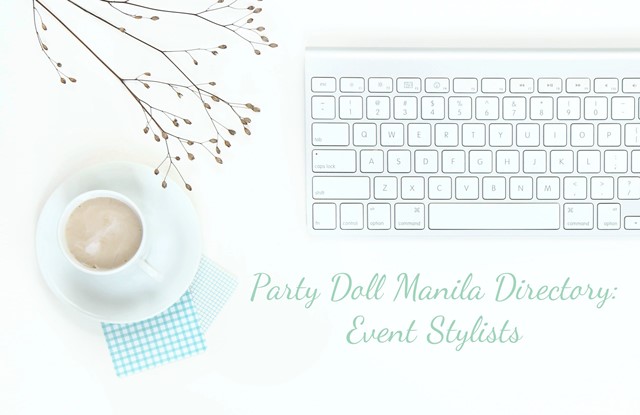 Kidstar Kastles

Facebook: KidstarKastles
Email: kidstarkastles@gmail.com
Contact Person: Imma Ongteco
Sweet Nest Events
Facebook: Sweet Nest Events
Email: hello@sweetnestevents.com
Contact Person: Jaz Distrito
Telephone Numbers: (02) 399 9501 / (0932)844 5529 / (0925) 5222639 / (0998) 9945529
NY Giftworks Events Specialist
Facebook: NY Giftworks Events Specialist
Email: nygiftworks@yahoo.com
Contact Person: Mek Dizon-Reyes
Telephone Numbers: (0917) 5026357
Dianne Khu Designs
Facebook: Dianne Khu Designs
Email: dianne.n.khu@gmail.com
Contact Person: Dianne Khu
Contact Numbers: (0917) 5445565
Carousel Event Styling
Facebook: Carousel Event Styling
Email: carouselbyasia@gmail.com
Contact Person: Lily Sia
Contact Numbers: (0917) 8494996
The Party Project Manila
Facebook: The Party Project Manila
Email: thepartyprojects@gmail.com
Contact Person: RJ Dacillo
Contact Numbers: (0998) 5605835
Party Magic
Facebook: Party Magic
Email: partymagicph@gmail.com
Contact Person: Michelle Lao
Contact Numbers: (02) 9555906
Mago Events Stylist
Facebook: Mago Events Stylist
Email: jaycemago@gmail.com
Contact Person: Ruth Paelmo
Contact Number: (0917) 8705236
Sugar and Sunbeams
Facebook: Sugar and Sunbeams
Email: jem6983@yahoo.com
Contact Person: Jem Perez
Contact Number: (0920) 9500358
Styled by Deiz
Facebook: Styled by Deiz
Email: styledbydeiz@gmail.com
Contact Person: Deiz Fernandez
Contact Number: (0926) 0522084
Sweet Street Manila
Facebook: Sweet Street Manila Event Styling
Email: info.sweetstreetmanila@gmail.com
Contact Person: Charmaine Bernardo
Contact Number: (0915) 6987763
Pretty Little Details
Facebook: Pretty Little Details
Email: prettylittledetails_ph@yahoo.com
Contact Person: Princess Lagrama
Contact Number: (0933) 8126959
Event Styles by Kathy King
Facebook: Event Styles by Kathy King
Email: eventstyles.kking@gmail.com
Contact Person: Kathy King
Contact number: (0917) 8082092
The Events Studio by Gideon Hermosa
Facebook: The Events Studio by Gideon Hermosa
Email: the_events_studio@hotmail.com
Contact Person: Gideon Hermosa
Contact number: (0927) 7959465
Flowers and Events by Teddy Manuel
Facebook: Flowers and Events by Teddy Manuel
Email: tmflowersandevents@gmail.com
Contact Person: Teddy Manuel
Contact number: (0916) 5548993
Party Divas PH
Facebook: Party Divas PH
Email: partydivasph@gmail.com
Contact Person: Minnie Lim
Contact number: (0932) 8898779 and (0975) 4948630
Style It Dainty
Facebook: Style It Dainty
Email: styleitdainty@yahoo.com
Contact Person: Mary Clutario
Contact number: (0925) 5375958