Once little girls don their beautiful dresses and leave their shoes at the door, they step into a room steeped in charm. Every surface is ornate and a low coffee table serves as a spot to enjoy fragrant tea and delectable finger food – pinkies up, of course – with cute teddies and pretty dollies. Incorporate a shabby chic style and a quaint celebration is now brewing!
The sky is the limit for Issey's seventh birthday. The chandeliers, the distressed woods in pastel hues, the doily patterns of lace, the lush blooms and foliage – everything was stylish with a touch of vintage flair! The scene reflected a timeless quality with a light and welcoming vibe. Passion Cooks Catering made pastel – primarily the pink color scheme – the queen in this bash. There were a few touches of deep tones here and there, but the base colors were kept soft and feminine. The team also decorated fresh blooms at every turn which were nothing to sneeze at! Oh my goodness, this bash literally drew beauty from anywhere! Might you like a cup of tea? We pinned down every dainty detail of this bash – captured by Little J Photography – so keep reading lovelies!
These 3D teacup invitations were the perfect option to announce Issey's big day. It was an invite and a favor – all in one! I adore the glamorous feel of its floral print and ladylike color that were reminiscent of Victorian decoupage. If you want something that will stand out in a pile of mails, 3D invites might be for you.

The real beauty of this tea party is that all the details were clever and elegant! Set up by the entrance was a vintage china cabinet that was re purposed to be a perfect photo display. The chalkboard welcome sign worked as a great way to pull guests into the bash!

The stage awakened my senses! The feminine styling was absolutely perfect to honor the little princess! It was bursting with white wisteria and vinca vines – all tied together with a muted palette of pink and white! I love how everything was kept light-hearted and fun! Notice the chocolate bar tower? My eyes grew as big as the tower when I saw that it was truly a collection of some of the most delectable treats around! Yum!

Here is a closer look at the stage backdrop! Issey's name plaque gave the space a rustic-glam look! The mini doilies and vinca vines added just the right touch to the already pretty backdrop!

The ceiling was a space dripping with feminine charm! It was light and bright, classic and pretty! The pink and white ceiling drapes gave the table setting a dreamy atmosphere and the chandelier lights gleamed on the fixtures. The blue, green, pink, and yellow buntings with classic floral prints enhanced the ceiling décor.

The dining area was another cloud of delicate beauty! The tables were draped with pink and embroidered floral fabrics which turned the set into a nostalgic tableau of romance from another age. The table napkins were heartwarmingly fresh! Their colors were not matchy-matchy, but they melded together in peaceful pastels. For the centerpiece, porcelain dishes and tea set elements were used. To pair them perfectly with the theme, pastel peonies did the trick! I love the elegant simplicity of the mason jars wrapped with white doilies! The white rococo style frame was also a perfect accessory to display Issey's sweet photo. Anyone would love to dine in here!

Issey didn't just have one cake for her seventh birthday. She had four cakes and they all looked too cute too eat! Hats off to Sugarplum Pastries for the beautiful designs! Now, which element would you most love to see alongside her birthday candles? The chocolate bar tower that will never be forgotten by anybody with a sweet tooth OR the princess cake that was simply divine OR the decadent royal crown cake fit for a princess OR the peach ombre turned into a teapot masterpiece?

Shabby chic is very much about mixing old and new, and this idea was reflected on the sweet station. It had a look that feels like high society! The area itself radiated light and every corner was inundated by an evident clarity. Aback of the dessert table was a wooden louver window painted with pale pink. The mismatched look of the hanging gilded and dark wood frames mixed with glam chandelier produced a perfect soothing balance. The ornate frames that were kept empty almost took the role of a simple piece of art. Look how pretty! I also swooned over the sweet treats! The spread was filled coordinating cake pops, mini cupcakes, Kyoto candies, macarons, and a tower of donut holes. The event cake was prepped at the center of the table. Cone holders and paper bags were provided for easy grab and go treats!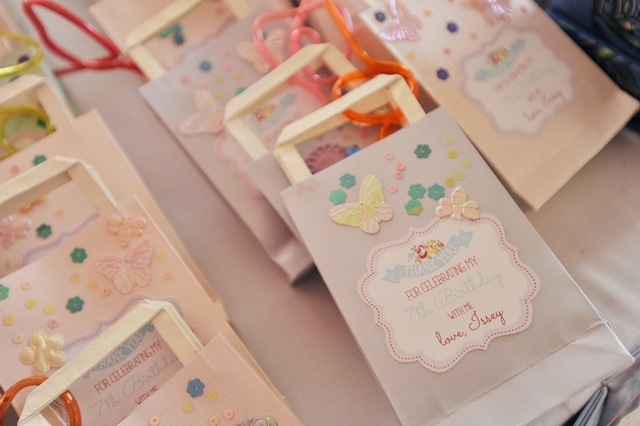 At the end of the day, guests' hearts were warmed by a magic show and a mini performance stage participated by Issey! She really performed her heart out in front of her dearest friends! Bravo, Issey!

The pint-sized guests were sent home with these memorable takeaways – shabby chic tea creations on pink kiddie stools!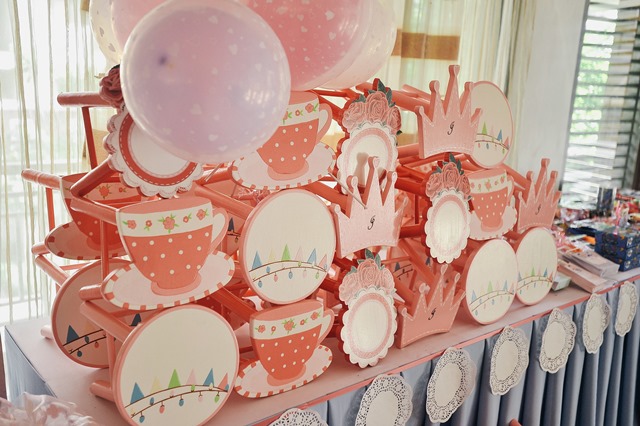 This is Issey who get all dolled up for her bash! Aww, that father-and-daughter-dance photo is so sappy!

Glad I had my tissues ready for another sappy photo! I really felt the perfect mix of sweet and nostalgia in her bash!

Vendor listing and references:
Event stylist and caterer: Passion Cooks Catering
Official Photographer, pre-birthday photoshoot, and SDE: Little J Photography
Videographer: Rio Jones Photography
Cakes and pastries: Sugarplum Pastries
Starbucks booth for unlimited Starbucks: Starbucks Philippines
Food carts (TJ hotdogs and FIC fruits in ice cream): SweetServices Party Foodcarts
Kiddie stool giveaways: Handicrafts, atbp.
Photo booklet and photo booth: Flipbooks by Flip Productions
Hosting and magic show: Sherwin Wizzo
Side entertainment: Chubi Del Rosario Jive
Kiddie salon and face paint: Just Kiddos Hosting and Entertainment Services
3D teacups invites: Paper Garland Designs
Gowns: Yumi's Nook-child at heart
Makeup Artist: Jey Marasigan-Gonda
Venue: Riverfront Residences Caniogan