Who's up for a little Mexican fiesta today? I do! Michelle of Party Magic whipped up another fun-filled party complete with an explosion of colorful fiesta details that will instantly gives us a jolt of happiness. Bursting with playful touches and adorable elements, Santi's Cinco De Mayo Fiesta party was wonderfully styled to impress! I'm sure every adult and child in attendance to a Mexican Fiesta party as charming as Santi's will have an amazing time.

When planning for a Mexican Fiesta themed party, the more vibrant the colors you use the better. Case in point, check out all those carefully crafted and uber colorful Papel Picados – a staple in every Mexican themed party.

More visual treats for us to adore! From the piñata, sombrero and cacti to the guitar and very vibrant paper medallions, collectively speaking, they looked so fiesta-perfect. I would like to quote Michelle about their fab stage setup: "This is, in fact, what a party for kids should be: all about fun! For me, this is one of the best stage set-ups that Party Magic has executed, because it looks so tight and well put together! It has enough character, elements, colors, depth, balance of design, and dimension."

With a cutie donkey, Mexican maracas and mini guitarra, their table centerpieces looked equally festive and at par with the theme.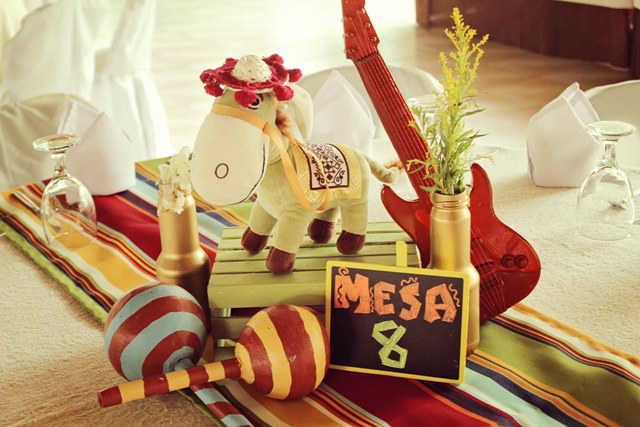 Their dessert spread features two ♫ stunning ♪ cakes. The cool cacti cake for Santi and the adorable Mexican sweetie cake for Arlen looks too freaking cute! Olé!

Michelle made sure everything matched flawlessly with the theme hence this gorgeous mobile studio set-up. No doubt every guest lined up to have their souvenir photos taken here felt star-struck. Also, I would like to point out the intricate "Santi" paper picados used as part of the setup.

These succulent plants served as their giveaways.

Vendor listing and reference:
Venue, tables & chairs: Valle Verde 6 Clubhouse
Event styling & giveaways: Party Magic
Cake: Kitchen Krafts
Caterer & food cart: Gourmet Palate
Invites: The Indy Playground
Host & Magic Show: Chayno
Entertainment: Golden Show
Prizes: Shopwise & Celebrations
Photographer: Pau Bengero Photography