Cabbage Patch Kids Theme Party Ideas
Here at Party Doll Manila, we're always on the lookout for fresh inspirations. Fortunately, our wishes were granted today because we're featuring a li'l throwback theme — the Cabbage Patch Kids! Yes, ladies and gents, they're back and what better way to remember them but as a birthday bash theme for our lovely Yella. The creative team (aka Yella's mom) of NY Giftworks Events Specialist took the adorable elements of CPK and paired these with pastel hues and dollhouse elements in styling the venue. So if you're ready to get inspired, check out the wonderful snaps by Kay Moran Photography below!
We love how both (yes, they have 2) entrance installations were beautifully decorated. For the main entrance, the décor was oh-so major! Shades of lavender — be it on the balloons or bouquets — provided a great contrast to the foliage. A Dianne Khu signature style, if you ask me.

Whoever thought that sprucing up the ceiling outside is such a genius! Upside down umbrellas and big, bright-colored balloons made for a whimsical ensemble. And yes, we're taking notes!

At the other door, there was a makeshift house frame, bedecked in twinkling lights. Like the main, it was designed mainly in lovely violet hues. Spot the tiny babies born on the enigmatic cabbage patch!

Step inside and we bet our bottom dollar that you'll be blown away with the overhead décor! Lilac waves filled the ceiling and gave the room an ethereal feel. And what completed the look were the floating blush-colored floral cutouts. It was such a sight, indeed!

It won't be a CPK party without a Cabbage Patch Kid, so yes, there's one at the stage, merrily joining in on the fun. The 4D doll standee from Sweet Nest Events seemed to beckon guests to its pink-hued playhouse, complete with white picket fence!

We always enjoy a well-thought of table centerpiece, just like today's fete. Along with the mini Cabbage Patch Kid, the trimmings consisted of a tiny purple playhouse and balls of greenery, both refreshing colors that complemented each other.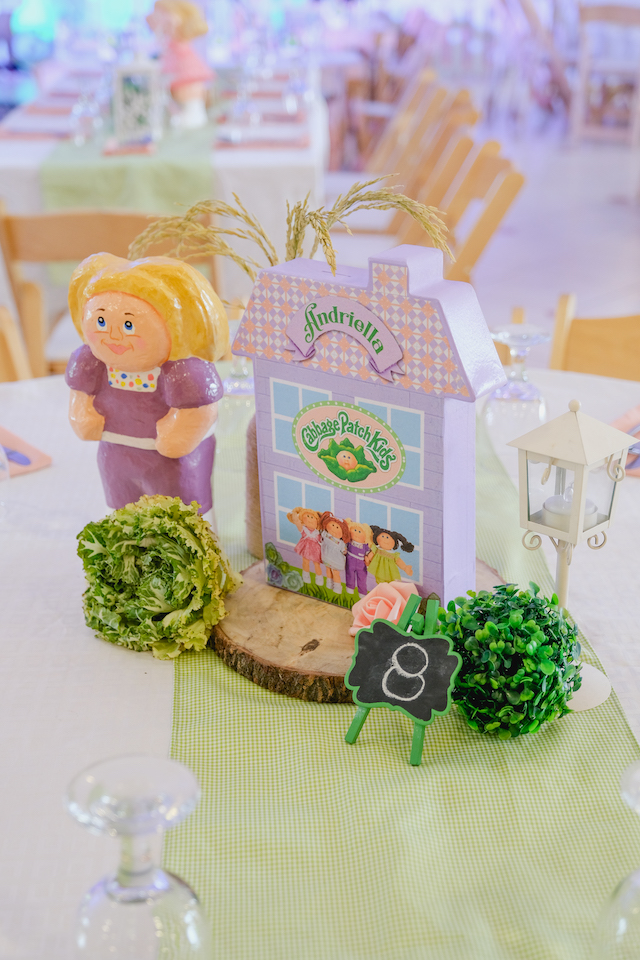 Of course, kids get to have their own tables, too! Instead of the usual ornaments, theirs have activity sheets and crayons to while away the time.

Most birthday cakes come in tiers, but Yella's was totally different that it had us screaming in absolute delight! Sweet Creations by Mums spun their magic and came up with hold your breath— an adorable lilac-colored dollhouse! It is filled with the tiniest, cutest, gigil-worthy details in every room. Honestly, it's too pretty to be cut up and eaten! Look at li'l Yella winking atop her balcony. Isn't she charming?

There's also a scrumptious dessert spread, filled with all sorts of sweet goodies for guests to enjoy. Everything won't look as appetizing without the creativity of Styled by Deiz. Look how cohesive and a tad whimsical the setup is! Adorbs, right?

Colorful cupcakes, cookies, and cake pops were such a treat to the eyes and taste, something to be expected from Sweet Creations by Mums. Did you spot the other cakes made to match the theme?

For those without the sweet tooth, they get to enjoy the delectable grazing table from 8 Spoons Catering. It was a fine selection of charcuterie and hors d'oeuvres, enough to whet the appetite for Osios Catering!

If such fine things weren't up their alley, guests get to sample tasty treats and snacks from food carts by Party Bitz & Pieces, Ants Pocket Cafe by theehive milk tea, LalaWings.ph, and Sweet Services. There were chicken wings, French fries, hotdogs, and fried balls to fill a hungry belly.

What's a party without exciting games and thrilling performances, right? Host Marvin Tomandao got the ball rolling, while bubble show, Jollibee and Disney princesses and prince from Madison Events sang their hearts out and captivated the kids.

For kids who were shy enough, they played a bunch of fun carnival games with balloons, baskets, and bottles. There were inflatable arcade toys like Hoop Shot and On Point, perfect for the active children.

Once they're done with physical activities, they get to explore and play pretend. From children's hospital and vet clinic to pastry store and farmer's market, kids can imagine what it's like to work in one.

As tokens of gratitude, guests took home something from Yella's Adoption Center. So whether it's a handmade doll from Ant's Pocket or stuffed animal, they get to pick whatever they want to "adopt". It was such a unique, charming idea!

Pretty Yella is oh-so adorable with her yarn wig — she's like a real-life Cabbage Patch Baby with her cute, chubby cheeks! It looked like she had an awesome time, as did her family who were thankful for everyone that went out of their way to reach the Cabbage Patch!


Suppliers who made it happen:
Event styling and coordination: NY Giftworks Events Specialist | Entrance 1 design: Dianne Khu Designs | Dessert set up: Styled by Deiz | Balloons: Party Station | 4d doll standee: Sweet Nest Events | Photo coverage: Kay Moran Photography | Video coverage: Bella Morcen Films| Cake: Sweet Creations By Mums | Grazing Table: 8 Spoons Catering | Catering: Osios Catering | Food carts: Party Bitz & Pieces, Ants Pocket Cafe by theehive milk tea, LalaWings.ph and Sweet services| Host : Marvin Tomandao | Entertainment: Madison Events, Inc| Activities: JM Party Creators, JACOBs Inflatables and Party Services, The Nest Play and Party Pad | Doll plushies : Ant's Pocket | Dresses: Simple Sew | Lootags: Printpadph | Lights and sounds: Grandpearl Pro Lights and Sounds | Others: Reservph and Precious Concepts