Game of Thrones Theme Party Ideas
It's always a thrilling experience to open our inbox and see what came in the e-mail – oh, it's just one of the perks of running an inspirations blog! What we got is something unexpected and majestic that made us all excitedly scream with delight. It's something royally themed and not fairy tale-like: a Game of Thrones-inspired party, but with an adorable twist, mind you! The classical celebration of Victoria (oh, how apt!) took all the lovely elements from the beloved fantasy series (kings, queens, castles, dragons, and knights!), sans the gory parts, thanks to the creative hands of Flourish and Frills. It was an epic festivity full of fun and laughter captured by the lenses of Spectrum Digitals. Are you ready to see if you're a Targaryen, Lannister, or Stark on her highness' medieval name day?
True fans of the show won't miss out the beautiful map of Westeros out for display, the place of Seven Kingdoms and warring families. They say that whoever sits on the Iron Throne rules all over the fictional land of Westeros.

Through the wooden doors, you'll catch a glimpse of the banquet hall – perfect for a spectacular royal celebration.

Of course, the banner featured baby Victoria's likeness to show you whose name day you shall be celebrating. After all, it only comes once a year!

Seems like we're here to partake of a feast fit for a Targaryen, for only a Targaryen could control the volatile, fire-breathing dragons. Spot Daenerys's three children, Rhaegal, Viserion, and Drogon, flying about the hall. Unlike the scary ones we see on the TV, these baby dragons look so cuddly!

The stage has been set for her highness Victoria, as the Iron Throne is fluffed with a pelt of fur and the dragon that stands on guard, ready to defend her from any attack. Frankly speaking, we fell in love with the majestic setup – from the castle walls to the placing of candelabras.

What made Game of Thrones a great show is the drama behind the warring families, loyalties, honor, and duties. Each great family has a sigil that represents the family's values and beliefs. Taking these into consideration, tables were named after each powerful family – Martell, Stark, Tyrell, Arryn, or Baratheon. We're guessing that Victoria's family is seated at the Targaryen table!

Aside from family names, each table centerpiece also has three dragon eggs – the gifts given to Daenerys before she became the Mother of Dragons.

We're not gonna lie – we're here for the cake. And it didn't disappoint! Could we take a step back and adore the three-tiered cake in all its splendid glory? The bottom mimics the scales of a dragon, and this is the only time we could gush about it. The tiffany blue and white colors – with splashes of gold and red – are magnificent. See how the cake was topped with Daenerys on her dragon, ready to conquer the Seven Kingdoms and the Iron Throne?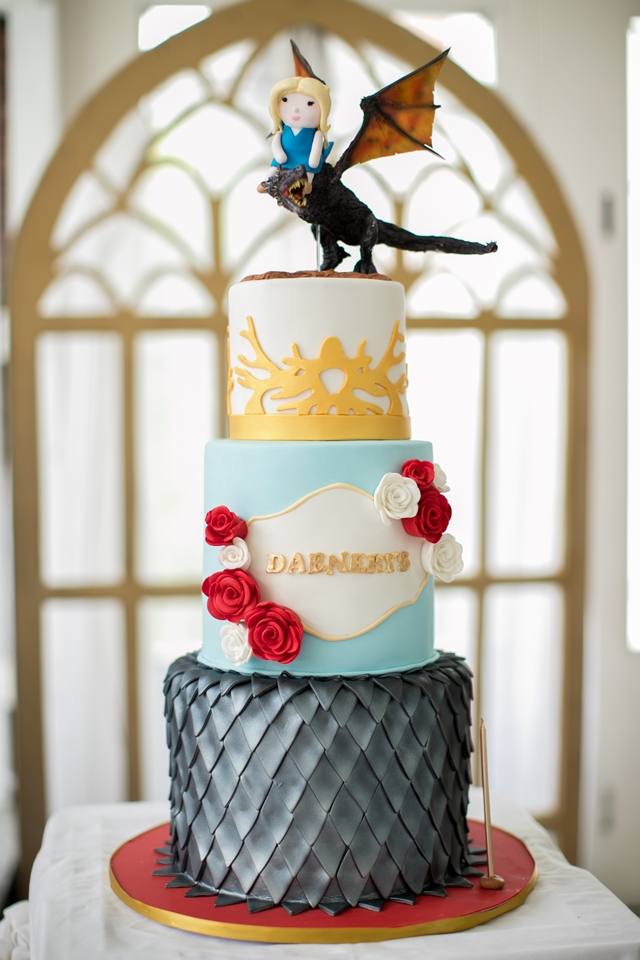 In the olden days, kids do not have mobile phones or television to while away the time. What they do have are outdoor activities – just like in Victoria's fete! To keep the kids (and kids at heart, perhaps?) engaged, there were activities that everybody could join in.
Do you have a keen eye for target, or you just want to try archery? Take your best shot at King Joffrey's undesirable face! Don't worry, the arrows aren't pointed enough to really hurt anyone, except those inflated targets, of course!

Have a tattoo design in mind? Well, dip your brushes for some fancy skin art painting!

You could always enjoy a jump or two inside this inflatable dragon, but we're not sure if you'll find dragon eggs inside!

After the jubilee, guests get to take home a sackful of goodies dubbed as "Game of Toys". We love a funny pun when we see one!

Of course, the royal family of Targaryen would like to thank everyone who celebrated with their daughter's first name day. Here is Jon Snow, we mean Victoria's father, smiling – after brooding for quite some time on the show!


Vendors who made it all happen:
Full styling: Flourish and Frills // Photographer: Spectrum Digitals