Panda Theme Party Ideas
The gentle giant panda inspires the wildlife conservation around the world. But this black and white furry mammal isn't only a powerful symbol for preservation; it's also a world treasure that everyone loves. This adorable creature has inspired everything from a DreamWorks animation to nursery décor, so why not a birthday party for an equally adorable 1 year old? After all, there's nothing like a panda to add a little sweet, cuddly cuteness to any celebration. The events team from Style It Dainty brought in all the hip Scandinavian-vibe from their store of great designs. Every Sunday Studios was on hand to make every moment a memory that Pio's family can look back on.

A black, gray and white color palette with a touch of mint green and lavender was used to deck out Pio's pandastic party. If you have wondered if a design using only grayscale can turn out great, the answer is a reverberating, "Yes!" Let's start with the entrance that is simple yet elegant with only a gray afghan casually strewn on the floor, a crisp white throw pillow with a black herringbone design and a playful panda stuffed toy for accents.

The ceiling was spruced up with black and white buntings along with black, white, gray and light blue paper lanterns, emphasizing the understated but classy look that the event team was aiming for.

There's something comforting and uniquely beautiful about Pio's stage that was a Scandinavian Panda nursery from wall art to furnishing. Like a room's accent wall, the stage backdrop is crisp white with black triangles for mountains. On this wall were several floating shelves with quaint bric-a-bracs and framed panda art pieces. At the center of the stage is a toddler's desk and chairs flanked by a toddler's white wooden bed on one side and on the other side was a giant panda bear stuffed toy resting under a tepee with a geometric design.

The tables were draped with crisp white cloth which served to highlight the centerpiece – a vase with a simple arrangement of baby blue eucalyptus and some tiny white blossoms, a black and white party hat and some frames.

Pio's cake was a darling two-layer sweet treat covered in smooth, seamless fondant. The first layer was simply adorned with a string of buntings. The second layer was a solid mint green hue topped with a perfectly cute panda holding a balloon.

A ventriloquist and his puppet livened up the party with a hilarious show.

What is a birthday party without games and the shrieks of delight and laughter from children? Pio's young guests must have had a lot of fun and "partied like a panda". This picture tells us all about the "panadamonium"!

Pio's guests were in for a surprise when they open these goody bags that went home with them at the end of the party.

Our bright-eyed little bear cub Pio poses with his doting parents – a picture perfect happy family.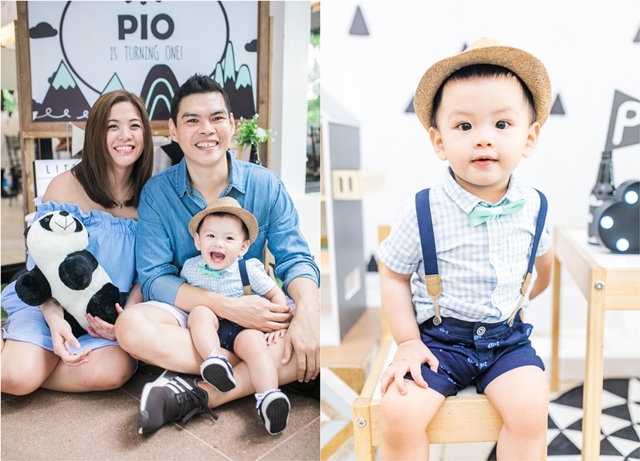 Vendors who made it all happen:
Full event styling: Style It Dainty // Photographer: Everyday Sunday Studios // Venue and catering: Q.C. Sports Club // Magician/Host: Ymmagic // Cake: Robert de Armas