Girly Camping Theme Party Ideas
Have we told you how much we love doing one of a kind party features on this website? If you agree, raise your hands and say 'Aye!' Kidding aside, we're quite the happy campers when we saw what dropped in our inbox: a camping-inspired birthday bash but with two twists – chic and American girl, the 18-inch doll little gals absolutely adore! It's quite a handful, we know, but here at Party Dolls Manila, we're up for anything that's whimsical, unique, and lovely. And with Bespoke Manila and Kaye Garcia at the helm, it's a totally gorgeous affair that makes for a tasteful fete. Check out the snazzy snaps by Little people Lifestyle Photography from the colorful campy celebration of Alexis's 7th birthday!
A girl definitely loves pink, so it's no surprise that pink balloons, plus a few cherry-colored ones, spruced up the entrance to her bash. You can't miss out on the cursive Alexandra in silver that welcomes you – once you open the white curtains to join in on the fun.

Take a step back and what we saw made our jaws drop – simply stunning! In true Kaye Garcia fashion, the ceiling gets to be transformed as well – and frankly, we're head over heels in love with the dainty décor! Foliage and white flowers drop from the top while fairy lights twinkle give off a perfect dreamy vibe. And what's a chic camping trip without pink dream catchers, right?

We're totally digging the deets here! Look at the white-and-cherry vintage trailer camp on the party's stage set against tiny trees and a grassy knoll; it's totally stealing the spotlight. Here's the life-sized American girl out for camping in the woods with her loyal companion.

Keeping it chic, white lawn chairs seat the guests around pristine round tables. Draw closer to the fire (but not too near, they say!) and notice the whimsical centerpiece: an eclectic mix of all the party elements we love! The mallows ready for roasting are so particular, we're going gaga over it!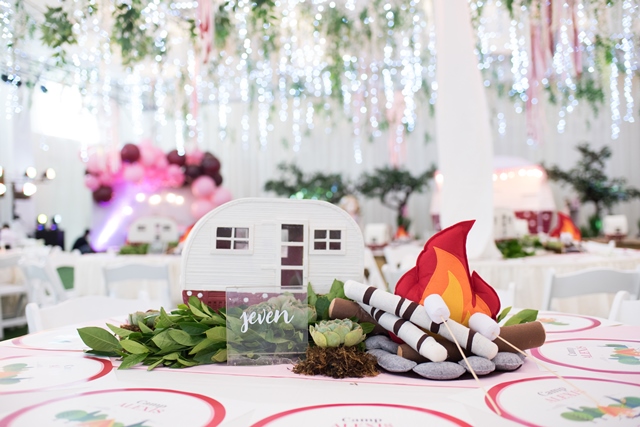 Kids also get to have fun in their own spots as well. Everything about the kiddie area is so spectacular and well curated – we couldn't pick a favorite! A camping isn't complete without tents, but this time, we're doing it in style – in ombre-colored teepees, of course! They look absolutely cozy, perfect for late-night secret-telling convos with your closest girls!

We've already professed our love for anything that's churned from the magical kitchen of Cottontail Cake Studio, so yes, we're going to tell as it is: this well-crafted cake made us go smiling from ear to ear. This two-tiered confection for Alexis is a quirky mix of the all-American chic camping theme: teepee, trailer camp, trees, fairy lights, and girls singing "Kumbaya My Lord" around a warm campfire on a summer evening.

The overall look of the dessert spread is definitely cohesive with the fete's color theme, thanks to the dandy balloons in pink and cherry! A bevy of cookies, cake pops, and cupcakes makes choosing a chore. We're not complaining though – in fact, it's a happy, scrumptious chore!

To be honest, a great kiddie party ain't complete without some show. Look how deftly the puppeteer made his pal move, or how he made Alexis giggle over the bunny's funny quips! A song-and-dance number also had kids cheerfully joining in on the fun!

We all know kids get bored easily, that's why there are tons of activities they could line up for. Say yes to photo-op decked out in American Girl theme or design your own plushie. How about having yourself cartoon-ized with a wacky caricature? Girls just wanna have fun with face paint at the ultra-girly mini-makeup station.

Girl parties and cotton candies always go hand in hand so it's no surprise that these colorful sugary confections are present in Alexis's celebration. Look at her enjoying her fluffy candy!

After all the fun and games, guests didn't go home empty-handed. Each took home an assortment of goodies to enjoy – all boxed up in a bespoke box that says Camp Alexis.

It looked like Alexis was a happy camper in her chic celebration as she swoons over her goodies and excitedly chills out in her girly teepee. A for adorable!

Everyone in the family is a trooper, celebrating Alexis's birthday in the most adorably stylish and definitely classiest camping theme we've ever come across!


Vendors who made it happen:
Party planner and coordinator: Bespoke Manila // Stylist: Kaye Garcia Event Styling // Cake and sweets: Cottontail Cake Studio // Photo: Little People Lifestyle Photography // Lights, Sounds and Trusses: Sensitivity // Food carts: Dairy Queen, Potato Corner, Pouf // Activities: La Pomme, White Bouncy Castle by White Kraft // Photobooth: BaiCapture // Program: Wan Lu, Cherry Bee of Jive; Madison and Uno Ritmo (Acoustic Duo) // Venue: White Space // Catering: K by Cunanan Catering