We're cooking something today and it's bear-y adorable! Forget eliminations because here in Liam's party, everyone sure is a winner! Filled with exciting games, fun activities, yummy food carts and scrumptious desserts, stylist Kaye Garcia kicked the party bar a notch higher with her amazing styling prowess. To inject a dose of cuteness to this theme, I think it is quite clever that they added all these cute bears into the mix! I'm pretty sure all the kiddos in attendance had a grand time making their own pizzas and decorating their cookies, I mean who wouldn't? There's just too many details to rave about so how about if I'll let all these wonderful photos of Stanley Ong Photography do the talking showing for me!
Check out Liam's larger than life milestone chalkboard showcased at the entrance. I'll go ahead and call this version 2.0!

Upon entering the venue, in a typical Kaye Garcia fashion, white lanterns filled the ceiling but those wooden spoon and fork chandeliers bring it to "Junior Masterchef theme" perfection. Their ceiling treatment looks immaculate, noh? And I love how cohesive all these white and brown through-out the party.

Recreating a cute play kitchen for the stage, I'm in awe as to how Kaye Garcia managed to pull-off this wonderful setup with the use of cardboard boxes! What a nice idea.

For the table setup, blue gingham table runners and skirts put color to the set while these cute chef teddy bears added a boyish charm.

Liam's Café got me dizzy with excitement because his dessert spread is filled with gorgeous sweet treats! Cottontail Cake Studio did another stellar job in bringing out all these little details to life. Just take a look at Liam's first birthday cake, the elaborate deets are simply too cute for words. And that's not the only eye candy worth a second, if not third look, see all these yummy sweet offerings.

As I've said, Liam's guests were quite busy dropping by the different activity stations. From the kiddie salon to all these different food carts, the pizza-making contest, apron & chef hat designing contest and cookie decorating activity are just some of the few highlights of the party. Oh, boy aren't they busy!

Of course, kiddie parties wouldn't be complete without exciting games.

Say cheese! Just how cute is their matching photo-op setup? The guests can even wear their chef attire to complete the experience.

Liam's little guests can bring home more cuteness with these chef teddy bear giveaways.

Say "Hello!" to the little cutie!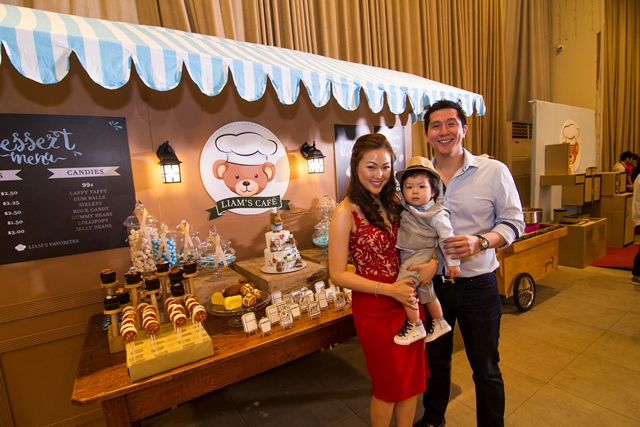 Vendors who made it all happen:
Venue: Blue Leaf Filipinas // Event Stylist: Kaye Garcia Events // Photo: Stanley Ong Photography // Cake and desserts: Cottontail Cake Studio // Party Planner: Planners Plus // Foodcarts: Spud Buds, Nacho King, Merry Moo, Seattle Best Coffee, Pouf Cotton Candy and Fish Balls Cart // Activities: Marta's Cupcake and Pink Box Kiddie Salon // Caterer: Passion Cooks // Host: Erney Arcilla // Extra entertainer: Jive