Space Adventure Theme Party Ideas
Bzzt bzzt! Beep bop! Prepare for an out of this world mechanical filled party as we celebrate little Aeden's 1st birthday- Space robot style! All about LICA's work definitely got the gears running with their superb party design that's totally otherworldly. Check out these great shots by Pink a Boo Studios!
Big bright helium balloons were used to prettify their ceiling setup – displayed like a nebula of newly forming stars.

In 3-2-1…time for blast off! The stage was filled with cool robotic/tech-y details complemented with friendly robots, colorful gears and a space shuttle that all blended well with a circuit board-like backdrop.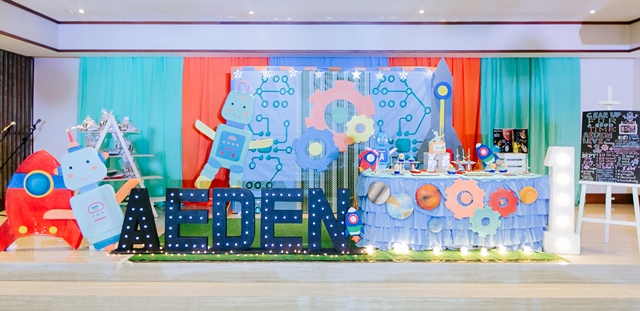 Each table came with a miniature DIY robot and space shuttle centerpiece- something the kids could play with before meal time!

Aeden's cake was an eye-catching treat designed with little gears and a quirky space robot that looked too good to eat!

Need some fuel for your robot? Head on over to the sweets table and choose from a yummy assortment of robot themed sugar cookies, gear cupcakes and cake pops by Sunny Circle Home Bakery.

With the love and never ending support he gets from his family, Aeden will definitely grow up to be strong like the sturdy space robots that are capable of surviving the rigors and dangers of outer space. Happy birthday Aeden!


Vendors who made it all happen:
Party Set-up: All about LICA's work // Photo: Pink A Boo Studio // Cake and Desserts: Sunny Circle Home Bakery // Host and Magician: BigJay Ciocon // Venue: Sugarland Hotel