If you're one who simply loves a tropical vibe then I'm sure Ysla's pretty birthday bash will be your next #PartyGoals. Sending my heartbeat to overdrive, Party Deco's luau meets flamingo take on this theme were done tastefully and oh so chic! From the symphony of bright colors against white details, to the touch of girlyness of the flowers, yep as expected, Khim's signature fabulous dessert spread is present to give us the full sensory overload. Cleverly choosing details to bring the refreshing ambiance of the tropics to the party, you'll see every element used created a relaxing, laid back ambiance awesomely. Also, their subtle approach to this theme by choosing lots of trendy accents like flamingos, pineapples and leaves made Ysla's party more wow-worthy! So why don't you grab your sunglasses and sip your cocktails, sit back, relax and enjoy!
Upon entering the venue, Ysla's guests were treated with some eye candy galore. So much color! From the ceiling that was generously filled with a mix of colorful paper lanterns and honeycomb lanterns, I love how the leaves wonderfully gave the installation the whole tropical shebang vibes.
PS: Check out how they forego the usual round table setup and used picnic tables instead. I think it complemented pretty well with the casual/laid back atmosphere they were aiming for.

If you are looking for a simple way to prettify your tables, you can't go wrong with florals, flamingos, pineapple (preferably golden, of course!) and some greeneries to add a serious dose of loveliness to the tables.

Using golden pineapple cutouts and personalized water bottles, even the kiddie tables were made to match with the over-all look of the party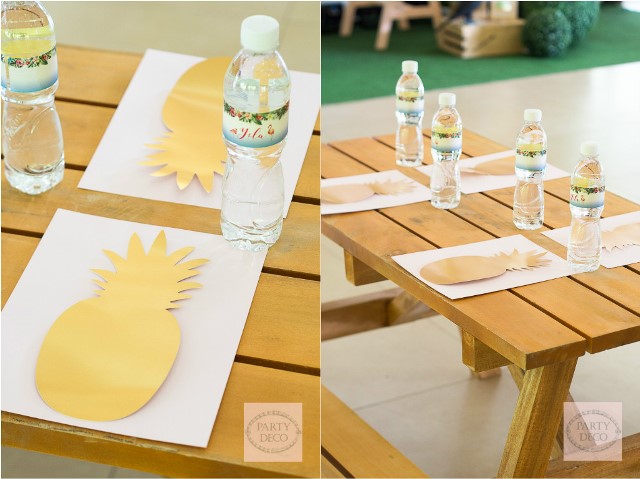 Uber adorable balloon garland, check. Too gorgeous to eat cake and confectionery, check and check. Tropical animals who came to party, check. Doubling as their main setup, this dessert spread will guarantee to get your sugar-loving heart a thumping! Also take note on all these tiny details around the set, the extra touches went a long way towards keeping the chicness of the theme on point.

Of course, this post wouldn't be complete without us ogling on all those yummy treats, right? From Ysla's charming birthday cake to these flamingo cookies, cupcakes donning cute fondant tropical birds and cupcakes served in plastic cocktail glasses with straws. What's not to love? In a typical Party Deco party, Ysla's dessert bar was simply amazing!


Vendors who made it all happen:
Styling: Khim Cruz of Party Deco // Cake: Sweet Art Confection // Desserts: Daphne Luis of Bianca's Patisserie