Astronaut Theme Party Ideas
Despite the adage "the sky's the limit," Judah went to infinity and beyond for today's party inspiration. His parents had a fantastic space-themed party planned for his first birthday and christening. I must say, The Party Project Manila's creative team came up with something incredible! Ready to be astounded? Buckle up in your rockets, because we know you'll want to see Little Coeo by Bella Morcen's lovely snaps!
You must pass through the sky first in order to reach space, right? The cutest thing we have ever seen was our little Judah making his grand entrance while seated inside his toy rocket ship.

The ceiling was given a wonderful makeover by Sweet Street Manila by adorning it with balloons in baby blue, white, and silver stars.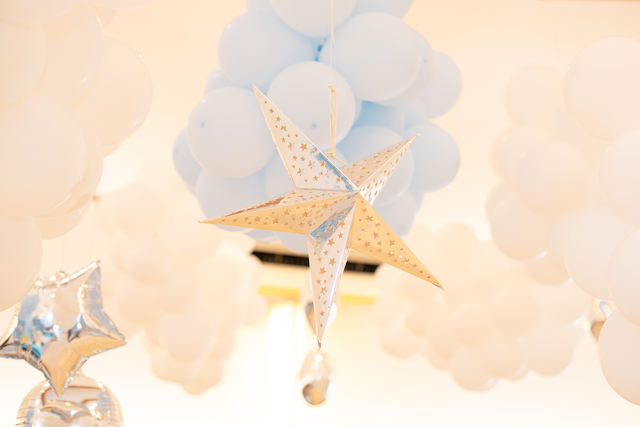 Looking at the stage, we're absolutely floored with how beautiful it was! Going with the lovely palette of baby blue, white, and dove gray, it was filled with fun elements. To complete the set, there's even a wacky alien and a cute Astronaut Judah ready to explore the great unknown!

Each table had a simple but tasteful centerpiece of balloons, a photo of Judah, and a toy rocket ship.

We already know that Sweet Creations by Mums goes above and beyond every time, but we love that they still manage to surprise us from time to time. For the cake, they whipped up a whimsical two-tiered masterpiece—the bottom served as the base for the crater-pocked moon where Judah, the astronaut, seems to have landed with his playful pup!

What would a party be without entertainment? James Cuevas, the day's charismatic host, kept things lively and everyone on their toes. The show included wild animals, amazing magic tricks, and engaging activities.

Guests were invited to try out these yummy food carts. They had a choice between party staples like popcorn, hotdog, cotton candy, and my personal fave – ice scramble!

As it was a double celebration, Judah's first birthday and christening, there are two sets of giveaways. To express their inner creativity, kids received a large box of coloring supplies. A box of chocolates and a soft pillow were provided as mementos for the ninongs and ninangs.

Judah seemed to have had an outstanding time at the celebration based on the lovely smiles he wore the entire day. Then again, who wouldn't?


Vendors who made it all happen:
Styling: The Party Project Manila | Ceiling: Sweet Street Manila | Photo: Little Coeo by Bella Morcen | Video: Lemon Three Films | Cake: Sweet Creations by Mums | Carts: Party Carts Manila and Arkana Coffee | Host: James Cuevas | Venue: The Blue Leaf Events Pavilion