Paw Patrol Theme Party Ideas
"Ready or not, we're coming in hot" for a birthday party that's double the fun! Baste and Athena are turning three, and they're spending the day with Chase, Skye, and the Paw Patrol gang! Hooray!
When you want a birthday bash that spells adventure, give Events and Beyond a call. Thanks to their awesome planning and the brilliant styling of The Party Project Manila, the scene is set for a spectacular, fun-filled celebration. Their "highly-trained paws are at your service."
There's no doubt that this will be an action-packed event with the brave duo, Marshall and Chase, greeting the guests at the entrance.

The ceiling is a dazzling display of colors, with red, blue, yellow, and green ceiling drapes forming a canopy over the partygoers. Paper lantern balls, multitudinous balloons, and glittering tassels seem to float up above while helicopters, planes, and hot air balloons fly along with them.

Could this be a scene from a Paw Patrol episode? On the stage, we see the Adventure Bay School, a candy shop and boutique found in the little seaside community where our valiant pups live. Rubble, wearing his yellow hard hat, and Skye, stunning in her pink aviator cap, seem poised for the rescue party. It's enough to spark the children's imagination and set them off on a mission with the team.

The tables were simply decked out with a crisp white cloth and a Paw Patrol rescue pup on two round craft boxes.

As family and friends sing to a cheerful and lively birthday song, Athena and Baste blow out the candles on this amazing 3-tier cake that screams "Paw Patrol, ready for action!" Fondant versions of their favorite rescue team—Ryder, Rocky, Rubble, Zuma, and Marshal—adorn the cake from top to bottom. Chase and Skye, with the watchtower in the background, make the perfect cake topper.

The dessert spread by Sweet Creations by Mums is the seventh heaven for everyone who loves sugary treats. With cookies, chocolate cupcakes that had the most delightful toppers, and many more, all cravings are totally satisfied.

Only top-notch performers like Flooch, the versatile host and master magician, and the remarkable Alab Poi Fire and LED dancers can provide a high-octane show for Baste, Athena, and their friends. Add the antics of the Paw Patrol mascots, and it's altogether blockbuster entertainment.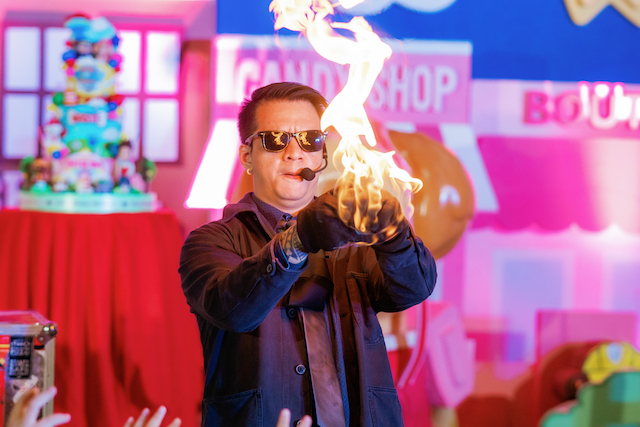 Eager to win some wonderful prizes and show everyone that they're ready and able like their rescue-pup heroes, the children join in the games.

With their cute Paw Patrol bags in tow, the young guests will have a lot of stories to tell about the happy and exciting time they had at Baste and Athena's party.

Dressed in matching blue, the birthday celebrants and their loving parents are all beaming as they enjoy the party together with their friends and family.


Vendors who made it all happen:
Venue Stylist: The Party Project Manila | Full Event Coordination: Events and Beyond | Photo and video: Ben & Kali Studio | Cake and dessert spread: Sweet Creations By Mums | Venue: The Emerald Events Place | Caterer: Densol's Catering and Events | Host & Magician: Flooch | Led Dancers: Alab Poi Fire and LED dancer | Paw patrol mascots: Team Camel Mascot Rental | Food Carts: Flo Fancy Carts , Sumilang Ice Cream , Four Thirteen Blend | Kids activity: Loot Bags