Under the Sea-Theme Party
Mermaids are one of the little girls' favorite mythical creatures. Growing up with The Little Mermaid and Barbie in Mermaid Tale movies, I'm pretty sure all girls (including me) dreamed of becoming mermaids, even just for a day. Mermaids are beautiful and magical, which is why they are the perfect theme for Lauren Julia's first birthday celebration.
Time to shell-ebrate! Lucky for us, Ben & Kali Photography captured these beautiful photos for us to see!
Before everything else, Lauren Julia was welcomed to the Christian world through a solemn and beautiful baptism ceremony with his parents and godparents.

Take a look at the gorgeous entrance that Style Me Lovely Event Styling created! The archway was covered with a garland made of balloons in soft hues. Along with the welcome board and adorable seahorse cutouts, two pink mermaid tails were featured.

Pastel-colored drapes and danglers, together with clear balloons that resembled sea bubbles and fairy lights, gave the ceiling a refreshing look!

The stage was all fun and whimsy at the same time. It's giving under-the-sea mermaid princess vibes, yes?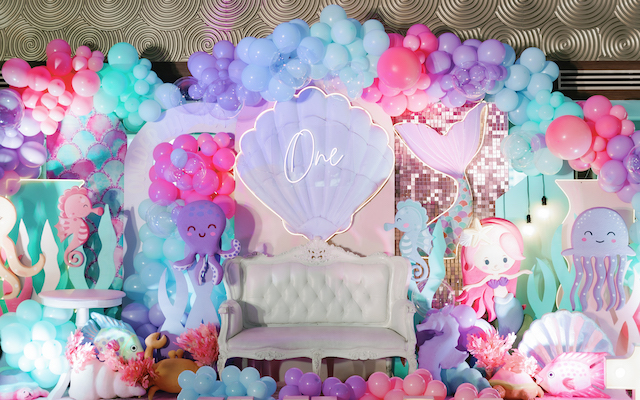 Their table centerpieces include treasure chests, seaweed, and lovely mermaids.

Mermaid tails were used to decorate the children's table as well, but to give it a sassier feel, customized placemats, and bottled water were given to each cushion seat.

Lauren Julia's cake certainly did not disappoint. It's a perfect two-tiered cake for her special day. From the most beautiful pink frosting to the seashells, pearls, and more mermaid tails, the cake looked like a gem from the ocean.

Check out the dessert spread, which is brimming with mouthwatering sweets, including cupcakes, cake pops, glazed doughnuts, and other treats.

To keep the excitement going and keep the guests entertained, Lauren Julia's family set up some games, performances, activities, and food carts.

Loot bags are cuter when they match the theme. Each guest took home mermaid-themed loot and a string bag as a thank-you gift.

Our celebrant and her parents expressed their gratitude to everyone who joined them in celebrating both her conversion to Christianity and turning one.


Vendors who made it all happen:
Planning and coordination: Party Doll Manila Events | Styling: Style Me Lovely Event Styling | Photo: Ben & Kali Photography | Side activities: Inflatables by Julianna and Pose & print Photobooth | Food carts: Potato Corner, Sorbelato, Quirky Carts, Candid Coffee and Takobar | Venue: Green Lounge