Have you ever imagined yourself finding a secret passageway in a forest to a different realm? We've seen many of these in movies and TV shows. A curious little girl finding a captivating palace in the middle of the bush. Today, there's no need to go to the woods to experience this movie-like scene. Thanks to Prodworxs.ph for turning Marco Polo Hotel into an enchanted garden for Atasha's first birthday. Rio Jones Photography captured every charming sight on this beautiful day!
Greetings from the palace in the woods! This entryway is just a glimpse of a delightful setting waiting to unfold.

The hanging plants and butterflies, the color of the lights and the soft lighting combined are overwhelmingly breathtaking. Anyone who walks under these lavish décor will surely have a royalty-like feeling.

An LED wall surrounded with blooming garlands, grass panels, adorable mushrooms and flowers made sure their stage looks enchanting through and through!

Flowers and butterflies gave the tables a spring-like feel. The soft pastel colors of the tablecloth injected a classy and sweet character to the over-all look.

Bethany Dream Cakes did an awesome job in making Atasha's gorgeous cake. This five layer sweetness overload has details that can only be prepared by so much love. This center of attraction can pretty much sum up the whole party theme.

The botanical atmosphere was brought all the more by One Sweet Day Events through these lovely pastries. Who can't get over the butterflies? Here, here!

What a mind-boggling way to get everyone's attention. Our magnificent magician, Aldino bewitched the kids with his magic!

These booths are chic! You can pop those balloons, crash the cans or toss those ring and still look sophisticated. Grace under game pressure!

Atasha's friends look lovely in their costumes. These princesses are definitely having a great time.

Of course, no one is going home without these loots! Tumblers and mugs for every happy guest. Let love grow, indeed!

Hello to the beautiful royal family!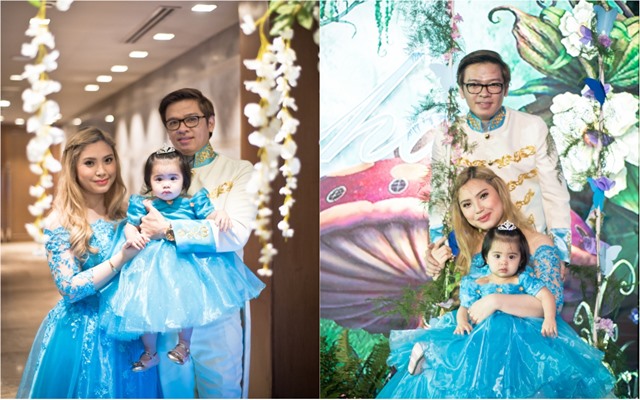 Vendors who made this happen:
Venue and Catering: Marco Polo Hotel // Kiddie Party Event Stylist, Coordinator & Planner: Prodworxs.ph // Photographer & Videographer: Rio Jones Photography // Birthday Cake: Bethany Dream Cakes // Desserts Buffet: One Sweet Day Events // Host/ Magician: Aldino Rondina // Lights and Sounds: Sound Level // Souvenirs: Instamug // Food Carts: Potato Corner and Fiorgelato