Bunny Theme Party Ideas
Grab some carrots, ladies and gents! Cute bunnies are everywhere in Vera's 1st birthday and baptismal party. Yes! It's a double celebration, that means double the fun, right? D' Party Project and Pros and Cons (coordinator) teamed up to make this day an awesome one for our adorable celebrant. The Frangeli House in Baguio City was transformed into a beautiful wonderland of fluffy little spring bunnies.
Are you ready to party? Let's hop in (oops, no pun intended!) and check the lovely shots by Harry Lim Photography.
Entering the place gave us a major chic and cute feels. Look how bright and welcoming the entrance was.

Guests were greeted by blue, pink and purple ensemble of balloons. How lovely!

The stage reminds me of a spring party in the backyard, decorated with pastel-colored balloons. The faux grass, colorful flowers and carrots completed the vibe.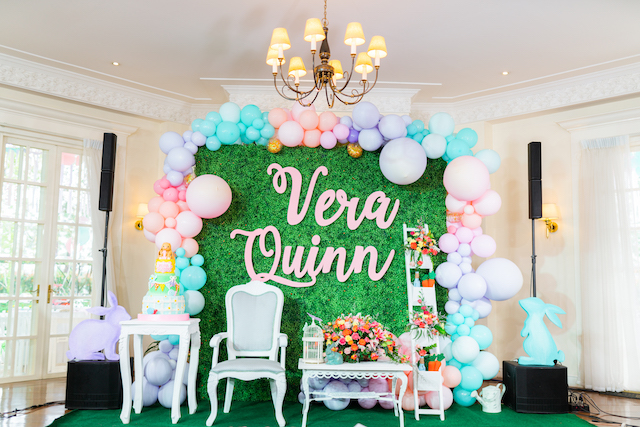 Along with the theme, the table was a miniature of the stage. The tiny garden setup with a plushie bunny is placed at the center looking all charming!

Of course, the cake by I Love Cakes (Baguio) is IG-worthy! The festive fondant banderitas, snail and little daisies look playful and dreamy. Say hi to the brown bunny on top!

Did somebunny screamed desserts? We heard you! One corner of the place is dedicated for the sweets with two big bunnies waiting outside the fence. The dessert spread had varieties of mini cupcakes, cake pops and cookies.

Look at their donut wall, who wouldn't want a bite?

Host and magician Glenn Aki did not disappoint with his amazing tricks, funny acts and presenting games. Everybody definitely enjoyed the show – and the prizes!

Our little celebrant looking all giddy and adorable, sending love to everyone who joined her as she turned one and be part of the Christian world.


Vendors who made it happen:
Stylist: D' Party Project | Photo: Harry Lim Photography | Coordinator: Chai Ramos of Pros and Cons | Cake: I Love Cakes | Catering: Mario's Restaurant | Lights and Sounds: Reinforcement Lights & Sounds | Magician: Glenn Aki | Wooden Chairs: Hendrix Sanchez | Venue: Frangeli House, Baguio City