It's fascinating how children's parties are evolving, I mean it's not only focused on the basics. With amazingly themed parties left and right, the details they use parties after parties are pure awesomeness. What better way to prove my point than this party… Welcome to Rossopoly! I'm sure most of you played this famous board game at least once. You felt like a billionaire, right? Styled by Party Magic and captured exquisitely by Little J Photography, expect lots and lots of stunning details through-out the party. With some larger than life details, let's start rolling the dice!
As you enter the venue, there's this cool installation of bits and pieces of Monopoly. The fun way they incorporated Ross' details in it is just wonderful. An area that easily brought the game to life, it instantly brought Ross' guests inside the exciting world of this game. Spotted: Rich Uncle Pennybag making a cameo beside the little man's adorable photos.

For the ceiling, top hats were arranged evenly. Hat's off… Literally!

The stage is a winner, look how they've mixed and matched all things Monopoly! The cake was also showcased at the stage area. You'll want to spend all your monopoly money on this one!

Monopoly accents were the perfect touch in the middle of the table. Featuring some of Monopoly's famous tokens, the board game itself and of course, more cash! Their table setup looks fun!

For the afters… it's Ross' dessert avenue; the place to be! The dice, golden coins, Monopoly currency and property cards are very much visible in these sweet delicacies. You can eat and play at the same time. Lol. Simply Paris' creations are utterly delish (and stunning!).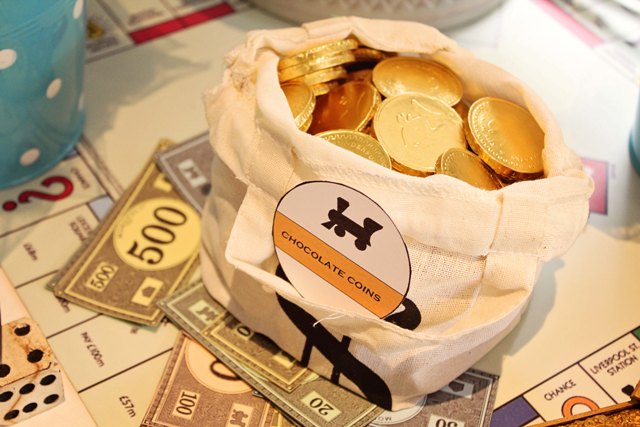 The money bags, I mean loot bags are full of awesome surprises. Everyone is a winner in today's Monopoly game!

Supplier listing and reference:
Event Stylist: Party Magic
Coordination/program/booths: Kisses and Smiles
Photo Coverage: Little J Photography
Cake: Sugarbox Cakes
Desserts: Simply Paris
Caterer: Centertable Catering
Chairs: Reserv
Entertainer: Wanlu