Sweet Shoppe Theme Party Ideas
Are you ready to satisfy your sweet tooth? Coz we are! Everyone will definitely get a sugar rush at Reine's Candyland-inspired birthday bash! All the elements used in this affair is just screaming with cuteness and charm. This is such a delightful and delicious theme; it's exploding with timeless sweetness.
Pastel colors of pink, blue and purple were the event's main hues. It highlights the brightness of the celebration and also gives that soft and fluffy vibe. And yes, all sorts of sweet treats were featured in every corner. You'll find lollipops, candies, cupcakes, ice cream, donuts, macarons, and more! Our creative style team from Sweet Nest Events did a really great job making this party an awesome one!
Good thing we don't have to get our hands all sticky to get a closer look at this event. Little J Photo was there and ready to share some great shots.
Even from afar, before entering the venue, you'll know what's in-store for you in this affair. I bet just by seeing the delightful and charming welcome décor, Reine's guests already feel excited and giddy to get their hands on the candies. The entrance featured a few sweet treats: lollipops, candies, chocolates and cupcakes. All in soft pastel colors.

The overhead design was simple and sweet. A combination of round paper lanterns and pompoms are tied-up to cute-ify the ceiling. The colors white, powder blue, baby pink, and mint green looked fresh and clean, I can't take my eyes off them.

I'm sure everyone was just in awe of this stage set-up. All my favorite treats are here! The colorful gumballs background looked perfect as backdrop of this layout. The adorable standee of the smiling little girl who just entered candyland is just how everyone looked like. And of course, the highlight of the stage is Reine's name marquee.

There are different centerpieces on each table but all are pretty and delightful. The set-up is tidy and simple, something to talk about but will not distract you from enjoying your food.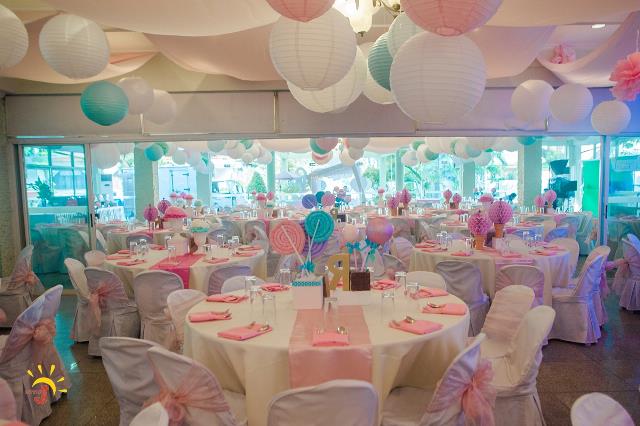 This 4-tier cake from Goldilocks almost gave me a toothache (in a good way, of course). All the elements that you are expecting from a candyland-inspired party are in this mouth-watering cake. The colors are just dainty and adorable, and the design, you just want to pick them out one by one.

What's a candyland-themed party without the sweet treats?! Reine's birthday bash did not fail to give her guests a sugar rush. The background design of the dessert station is visually enticing and the way the treats are presented is equally tempting. Another highlight of this party, which is now becoming a trend when it comes to desserts, is the donut wall. It gives a new perspective in making a dessert spread more interesting.

All the kids definitely had the energy to enjoy the show in full blast and Tectonix truly is a hit to kids with their awesome balloon show. Our talented celebrant also showed her guests what she got when it comes to dancing.

Our adorable birthday girl, Reine Elliana, in her lovely blue gown. Roxanne Guinoo's darling girl truly is as stunning as her mom.

The lovely family enjoying the affair. Such a gorgeous bunch, aren't they?


Vendors who made it all happen:
Event Planning & Styling: Sweet Nest Events // Photo & Video: Little J Photo // Cake: Goldilocks