Pista sa Nayon Theme Party Ideas
It is not easy to come across celebrations with themes that are so unique but equally fun as fairy tales and films. Seeing a birthday bash inspired by our own Filipino traditions and customs is such a breath of fresh air! This reminded me of how colorful and tasteful the Filipino heritage is. Let me show you what I'm talking about by sharing Every Sunday Studios' photo snaps during Maia's first birthday party.
What better way to greet guests than the most popular Pinoy expression, "Mabuhay!"? I must mention that this placard was attached to another local symbol, the jeepney.

No fuss and frills needed to make the setup look chic. The chandeliers and banderitas exuded modesty and warmth balanced with the tables' pastel hues for a vibrant vibe.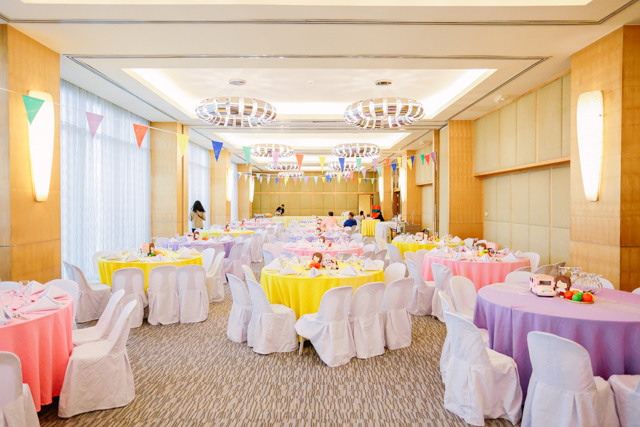 The stage is a representation of what a Filipino fiesta is like. Essentials such as lechon, fruits and palm trees were prepared for that IG worthy spot.

Some of our homeland's iconic elements such as bilao, bayong, jeepney, baro't saya embellished the tables. The tiny dirty ice cream cart must have brought back lots of great childhood memories to the guests.

Maia's two-layer cake was coated with baby pink and white fondant with a very candid design. Its highlight was her mini standee wearing a yellow Filipiniana gown.

The little ones got their hands dirty by painting on canvass and playing games their parents enjoyed as kids. I haven't seen a 'tirador' and 'holens' for a while!

Everyone's favorite was also served so that nobody ran out of energy – the Pinoy sorbetes!

Welcome to Maia's sari-sari store! Sky is the limit to Maia's giveaways. She did not pack any for her friends because they got to choose anything to their hearts' content.

Friends and family members were all smiles as they have their snaps taken on the stage.

The birthday family was beaming with happiness as a new chapter for Maia is uncovered. May her coming years be as fun and bright as this day!


Vendors who made it all happen:
Stylist and coordinator: Lia Weddings and Celebrations | Photo: Everyday Sunday Studio | Kiddie activities: The Party Project / Cake: Zoeyscakeph | Food Carts: Sorbelato | Venue: The Grove | Caterer: Little hippo Catering Services