A new year means new travel plans and resolutions. Where to go? We are on the lookout for awesome celebrations to shape your travel goals this year – and eep! We have found one that you need to see for some serious inspiration.
For the parents of our featured munchkin, the Philippines is the ultimate destination for his first birthday. They traveled all the way from the US and decided to center the bash around something that is meaningful to the family – what else but the joy of traveling and returning to a hometown! Spark + Twinkle styled the event and did a wonderful job! The team decorated the space with loads of fun colors, breathtaking backdrops, travel-inspired treats, and artsy food ideas! Word of caution – this bash may make you want to explore the world right now! Guys from Nice Print Photography were aboard this voyage, and lucky for us, they took lots of snaps along the way! So read on!
Xael announced his big day in style! Inspired by a vintage boarding pass, his invitation featured red, blue, and ivory colors, and came complete with a perforated section. So classic!

I bet guests loved passing through the ginormous archway installed at the entryway that mimicked the Arc De Triomphe in Paris! Adorable directional signs were also set out to welcome them.

Oh wow! The stage was painted blue to bring everyone on cloud nine! Thanks also to the iconic landmarks display at the backdrop for taking us across continents – from Asia to America to Europe! The 3D propeller plane with a 3D young aviator on board was especially adorable on stage!

How adorable are the hanging clouds and hot air balloon lanterns! Together with the medallions, drapes, and tassels, they created one playful scene! And can I just say that red and blue look so handsome together?

This table – cheered up with blue cloth and centered with a suitcase and a plane – seems waiting for an awesome party to begin!

I am blown away by Xael's cake! Not an element was overlooked – so awesome!

I love how the sweet station was kept simple, but fun enough to feel that you are being whisked away to a faraway place!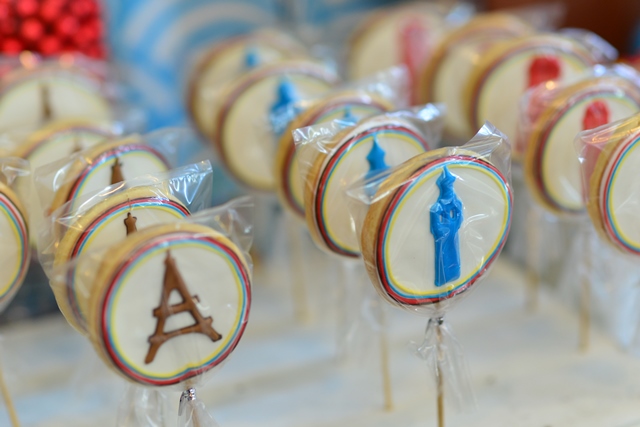 This idea soared above the rest – bento boxes for the munchkins! So delish and fun! Any guesses on what they are made out of?

The magic show and face painting activity also perked up smiles everywhere and created lasting memories of adventures!

Finally, Xael ended the happy journey by giving away goodies to the adventurers.

Such an adorable baby! Xael was all smiles – and he was not the only one! See the lovely family snap!

P.S. I really dig those map tees!


Vendors who made it all happen:
Venue: Le Parc Event Hall at The Metro Park, Pasay City // Event styling and coordinator:
Spark + Twinkle
// Photo and video coverage:
Nice Print Photography
// Cakes and dessert buffet:
Sugarplum Pastries
and
Joy San Gabriel
// Catering: Verleo // Food carts: NYFD and Fiorgelato // Kids bento meals: Bentomommas // Host and magician: Marcus // Face painting: Cha Reyes // Photobooth: Studio on Wheels // Wooden chairs rental: Reserv // Invitations: Shutterfly // Invitation design: Eugene Gagolinan // Favors: Blaskie Boxes and Crafts