Under the Sea Theme Party Ideas
The "Ber" months are here, but that doesn't mean we can't daydream about the beach, right? Good thing we have something that will definitely perk up your day — a sea-themed shebang for Santino. And this time, we're doing a deep-dive as we explore the great world of underwater styled through the eyes (and hands!) of the amazing Dianne Khu Designs. Are you excited? If you are, then put on your goggles and have a rollickin' fun over the charming snaps from Time Travelers by Lai de Guzman.
Under is where awesome creatures of the sea thrive, so it's not surprising to see an octopus, turtle, and crab swimming by. Beach balls and surfboards make for some fun on the sand, but what really completed the vibrant décor was the bubble-like balloon curtain welcoming the guests. Definitely a must-have on your next fete!

Looking up, the ceiling was festooned to make everyone feel like they're having waves of excitement underwater! Aqua blue swags, white and translucent balloons, and colorful sea critters totally gave a deep sea vibe that's one for the books! Swim a little closer and spot the seahorses, fishes, and crustaceans floating amidst the bubbles. Is it too much to hope that there'll be a mermaid sighting as well?

The overhead décor wasn't the only scene-stealer at the venue, and we're not talking about li'l Santino just yet but the stage, of course! Huge charming caricatures of sea creatures filled the space that made everyone feel they're fathoms under water! Crashing waves and streams of bubbles in turquoise and white completed the vibe.

Up above the tables, everything was bright and lively. A miniature-sized palm tree, corals, and wooden elements made for a charming tropical centerpiece.

Here at Party Doll Manila, cake is life and Santino's definitely gave us one. Sugarplum Pastries crafted a three-tiered creation in ombre shades of mint and turquoise filled to the brim with charming underwater deets! Apart from the happy sea creatures frolickin', there were bubbles, sand, seashells, and corals that had us ocean-dreamin'!

The dessert buffet, aka Santi's Seaside Shack, totally hit the sweet spot with its wonderful array of lip-smacking sweets and treats! Chocolate-covered Oreos, sugar cookies, cake pops, and cupcakes looked absolutely tempting — it's as if they're calling us to feast on them! Everything looked detailed, fancy, and just too pretty to gobble up in one go.

Host Chayno got the ball rolling on the day's festivities but guests were already entertained with the fun gamebooths. Balloon pop and shooting games had everyone rolling up their sleeves and polishing their skills to get a shot at amazing prizes! Frankly speaking, nothing whets the appetite than a good, ole friendly competition.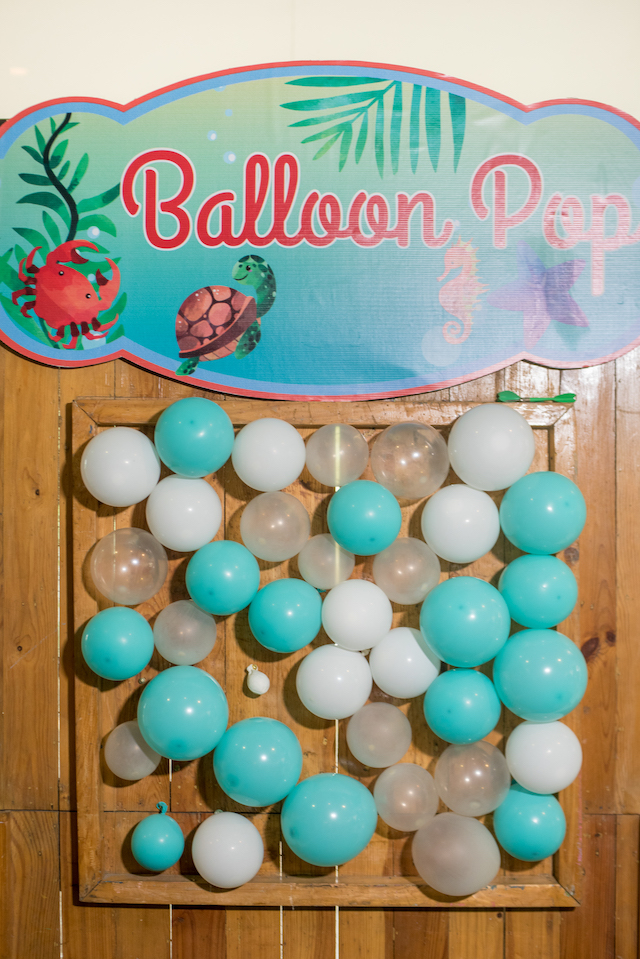 Pails of beach goodies were handed out as tokens of appreciation to everyone who had their hands on deck and took the time to celebrate with Santino.

Adorable Santino donned a shark onesie to join in on the fun, and the best way to cap the day's festivities. Thanks to his under the sea-themed fete, we at PDM got a glimpse of what's it like down there. We're hoping that young Santi gets to explore the vast world beneath the waves some day!


Suppliers who made it all happen:
Stylist: Dianne Khu Designs | Photography: Time Travelers by Lai de Guzman | Cake and Desert: Sugarplum Pastries | Party Host: Chayno