Fairy Tales Book Theme Party Ideas
Every little girl's favorite fairy tale starts with "Once upon a time, in a kingdom far, far away, lived a beautiful princess". Every girl's dream is to be that princess or for the main character's wish to come true. There are a lot of fairy tale stories that we have grown to love. Each story may be different from the other, but all will touch your heart and will give you that warm feeling inside. So why choose one when you can pick as many fairy tales as you want to be your theme. Luckily, our wonderful friends at Party Magic can turn any theme into a magical one. Just like how they dressed-up Olivia's birthday celebration; it was so charming and enchanting.
A mash-up of elements from Cinderella, Pinocchio, Brave, Rapunzel, Beauty and the Beast, Snow White, Sleeping Beauty, and The Wizard of Oz were used to jazz up the affair. Characters from the stories were turned into sweet desserts and adorable standees. In every, turn you will find an iconic element that will remind you of your favorite fairy tale.
"Bibbidi-Bobbidi-Boo!" Let us now turn the pages and peek at the highlights of this lovely bash beautifully captured by Happy Folks Studio.
This entryway is definitely one for the books! Royal guests are welcomed by a huge story book that will make guests feel that a magical story is about to begin. Another giant story book with a heart cut out was used as the party's passage gate with a sign beside it announcing the event details. While on the other side is a stunning life-size gold, ball carriage, just like what Cinderella rode going to the ball.

Now this is one dazzling ceiling décor. It looks gorgeous with all the pastel-colored drapes, buntings, and round paper lanterns. Gold wreaths and gold leaf vines were hung to add a majestic feel to the overhead design. And what makes it more illustrious are the story book pages dangling all over. A magical sight that will make guests stare in awe.

The stage set-up is as pretty as a flower. With pink as the main color of the stage, nothing can be more girly and princess-y than this. The baby pink flower backdrop highlighted Olivia's name marquee. And then there's a pink tower on one side and another giant story book on the other. Decked over are two lovely character standees, a boat and a pile of books.

Each table has a different story theme. Featured in these photos are Cinderella's carriage, Rapunzel's tower and Pinocchio himself. Small balloons are also tied on each to add a festive feel to the set-up.

Three beautiful princesses from different kingdoms, a lovely girl from Oz, and a wooden puppet boy gathered to make Olivia's cake a magical one. On top of it is a pink castle with Olivia's name. Our creative friends from Tazzy Cakes did a magnificent job creating this delightful and charming cake.

It was a great idea to use a wall tower with leaf vines as the dessert station backdrop, to make the guests feel like they are in the castle's kitchen. On both sides are story book pages which is a staple in this affair. And right at the front is a standee of 3 bear cubs, who are Merida's 3 younger brothers after taking bites of the magical tart. I bet these trio made you smile.

All sorts of themed-desserts are displayed for everyone to grab. Cupcakes with themed topper, cake pop princesses, sugar cookie crowns, and a lot more.

One more thing that's delightful about this party is their photo-op corner. Guests are transported to Geppetto's workshop upon stepping on to this spot. Truly Instragram-able!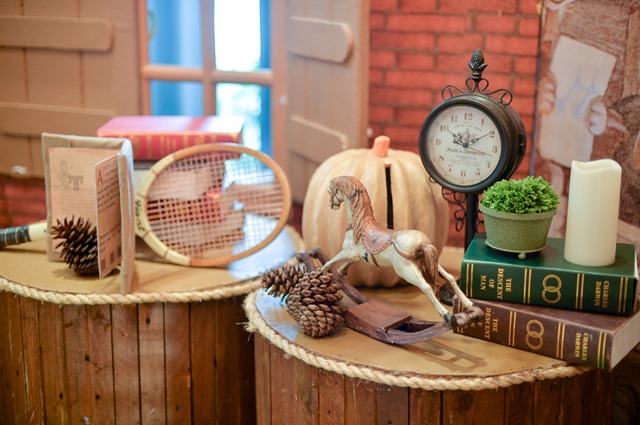 Plushies of different design are the party's takeaways. Guests can choose between a pink castle, a pretty princess, a charming prince, and a mythical dragon.

Our adorable birthday girl, Olivia, with her lovely parents. Here, the royal family having a photo op beside Olivia's charming cake.


Vendors who made it all happen:
Stylist: Party Magic // Photo: Happy Folks Studio // Cake and Dessert: Tazzy Cakes // Catering: Verleo // Host: Wanlu