Thinking of what theme to roll-out for your Halloween party this year? Check out our last-minute guide to throwing a quirky book-themed party on a budget that will surely add a dose of whimsy to your Halloween party.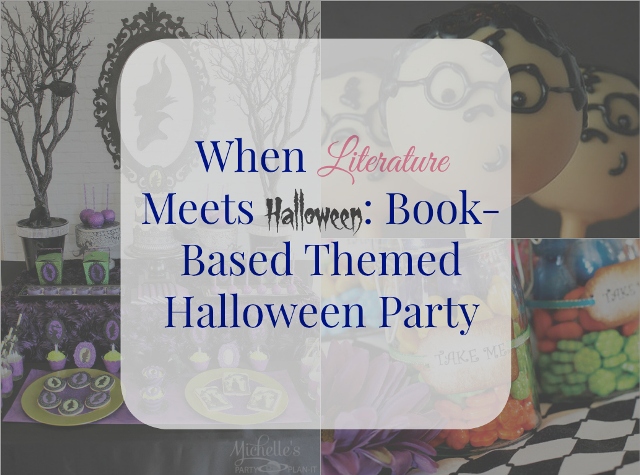 Harry Potter-themed Halloween Party: Imagine my excitement when Harry Potter was released, the series got the perfect mix of wizardry, adventure and magic. No wonder it instantly captures the heart of millions! So for this year's party forget about the scary ghouls and witches for a minute and take your guests to The Wizarding World of Harry Potter and enjoy a different level of fun.
Decoration Ideas:
Don't forget to drop by Platform 9 ¾ and ride the Hogwarts Express!

You can also turn your whole living room into Hogwarts School. Aside from the floating letters, you can also set up floating candles to add that wow factor.

And, your dining table? No worries. With a few props here and there you can turn that into a magical table.

Food Ideas:
You can serve sweet candies that are made to look like owls and of course – Harry Potter! Cuteness much.

Why not serve some Wizard Hats cupcake, too.

And, for the drinks, don't forget to the Butterbeer!

Activities and Games:
Give the kids a free flying lessons.

Snap, snap, snap! Check out this fun photo booth props.

Giveaways:
It's time to open Professor Snape's cabinet and give them perfume "potion" bottle as giveaways.

Maleficent-themed Halloween Party: Ever wonder what's the story behind "The Mistress of all Evil" Maleficent? I do! Keep your guests on their toes and let them enter the Enchanted Forest and meet the person responsible with Sleeping Beauty's almost a hundred years sleep.
Decoration Ideas:
Set up a black and purple curtain all over your dining area.

You can also put up a Maleficent-inspired elements to the party and don't forget to throw in Diablo – her infamous black raven to give more accent to the theme.

Food:
Make Maleficent-inspired cupcakes!!

Or, have these black and purple macarons they can munch.

Giveaways:
Give your guests this classic and dainty mirror in Maleficent-inspired color as souvenirs.

Alice in Wonderland-themed Halloween Party: Invite your guests in a one of a kind tea party! Alice in Wonderland is definitely one of the most popular and in-demand party themes of all time and I think it'll also be perfect for a Halloween-themed party. Enter the eccentric world of Alice and have fun meeting the different characters along the way.
Decoration Ideas:
Alice in wonderland is a colorful story so, we want your living room to be as colorful.

Use mismatched frames with different Alice in Wonderland quotes to easily tie-in your party with the theme.

You can never go wrong with flowers. Use them to instantly add a pop of color to the setup.

Make sure to give your dining area a "quirky" makeover and make the Mad Hatter proud.

Food:
Serve them mini burgers with these red and black playing cards icons. Off with there heads!

Or, these cutie teacups-inspired desserts and bouquet of cupcakes.

And, don't forget the red jellos!

Activities and Games:
Play "Follow the rabbit." This is just like a hide-and-seek game. One person is designated the white rabbit and must run and hide. And, the others must try to find the white rabbit. If someone finds the white rabbit, he/she will also be hiding and, it will continue until one person is left seeking. When the last person finally finds everyone, he/she must point to the group and say, "follow the white rabbit." This lets that person know that the new rabbit has been found and will start the game all over again.
Do the teacup relay. This is like a balance the spoon game. You'll need two teapots, two teacups, and two pitchers; one for each team. The objective is to fill in the pitcher with tea (or, you can use water, too). You need to place the teacup onto your head, walk over to the teapot and pour the tea from the teacup to the pot and, run back to their team to pass the cup to the next person. The first team to fill up the teapot, wins!
Giveaways:
This is probably one of my favorite giveaways. It is a jar full our colorful candies with matching Alice in Wonderland labels.

Or, these Mad Hatter drink-inspired giveaway also looks great.

With these amazing ideas for Halloween, I'm pretty sure you will never think of the Halloween as the most terrifying and frightening event. Happy Halloween!!
Photo Sources:
http://tipjunkie.com/
https://www.babble.com/babble-voices/
https://www.buzzfeed.com/
https://blog.hwtm.com/
http://www.halloweenforum.com/
http://www.queen-of-theme-party-games.com/
http://michellespartyplanit.com/
http://andersruff.com/