Guys, can you give me a minute or two while I do my happy dance? Yes, my heart is going thump-thump-thump really fast as I look over the set wonderfully sent by the awesome team of Happy Folks Studio. While I admit that featuring a new party theme got me all screaming "YAAAS!" on top of my lungs, I just love the feeling of excitement when I see one of my "Dream Themes" come to life. Stylist Kaye Garcia is one of my go-to stylists for all that and I'm over the moon on how she keeps on feeding my unending desire for all things "extraordinary" one party at a time. So I'm going to cut my rambling and get on with "Once upon a time"…
Goldilocks and the Three Bears, another children's classic story that we have grown to love. With Papa Bear, Mama Bear, Baby Bear and of course, Goldilocks in tow, this party got all the awesome details right down to a tee. From the bowls of porridge, beds and chairs, all the details of the story were present in Justine's adorable party. Filled with cuter than cute desserts and fab details, this party injected the right amount of whimsy to make everything look simply delightful. With pun intended, the cuteness is too much to bear!
In a true Kaye Garcia fashion, this clean yet lovely ceiling setup was the first thing that caught my eye. A ceiling full of two-tone paper lanterns gave the venue a relaxing ambiance.

In the story, Goldilocks found and tried each of the three chairs in the house. So, for the stage setup, they decided to make a charming replica of the living room complete with chairs, a cabinet with lovely teapots and the whole living room background feel.

Beds on bed, they filled the venue with tables that were made to look like a bed. Complete with these cutesy headboard, three mini beds of pretty floral adorn their table/bed setup. How cute!

If you know anything about us here in PDM, you know we cannot get enough of these sugar art – the prettier, the better. We can't help ourselves not to drool swoon over these gorgeousness any way we can! So we think that you are going to fall hard on Justine's Goldilocks and the Three Bears cake and dessert set because we just did.
The setup was given a vintage-y feel with the use of this classic illustration from the book while the ruffles at the sides gave it a softer and girly look.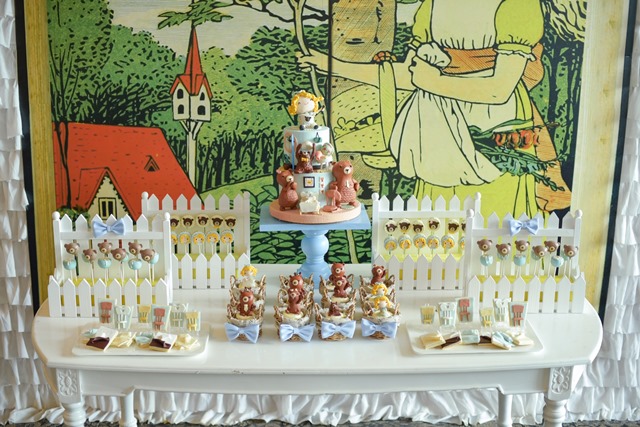 I love Justine's cake! I mean, the whole story can literally be found in her oh-my-goodness birthday cake! From the adorable Goldilocks topper to Papa Bear standing beside his broken chair, Mama Bear and her messed up bed and Baby Bear holding his empty bowl, even the wall details were all there! I'm going to faint with all this cuteness.

Bed & chair sugar cookies, bowls of porridge & bear cakepops and Goldilocks and the Bears Oreopops & cupcakes filled this dessert table setup. Each equally yummy looking as the next! Even the presentation looks super-duper cool.

Host Marcus entertained Justine's guests with his magic show and exciting games.

I love how their stage setup easily became a lovely photo-op area for their guests to take their souvenir photos in.

Wonderfully captured by Happy Folks Studio, here are some of my favorite snaps of the little cutesy Justine with her family.

Watch the party highlights here.


Vendors who made it all happen:
Stylist: Kaye Garcia Events // Photo coverage: Happy Folks Studio // Video: Lemon Three Films // Cake and desserts: Cottontail Studio // Host: Marcus // Catering: PVL Foods // Photobooth: Contact Live Photography // Foodcarts: Potato Corner, Octoboy and Fish Balls