Welcome to Ponyville! Boy are you in for another color-ific bash and I'm stoked to share it with you guys. Jam-packed with fun activities, adorable souvenirs, exciting shows and too-cute-to-eat desserts, even the stage decorations were made extra special. Keeping the ambiance light and playful, we made sure that this My Little Pony-themed party is bright, festive and all around pretty! Another special party filed under Party Doll Manila Events, my team and I would like to send our warmest hugs and kisses to Mommy Girlie for trusting us with this special event.
Because this is a triple celebration, Mommy Girlie made sure to triple the fun. In short, she wanted the fun factor of this party in full force! Celebrating Julia's 7th birthday, Ashley's 5th birthday and Sandro's baptism, we just have to pull out all the stops in making this party more special for everyone at the party. By that, I mean, 5 food carts, 3 on-the-spot souvenir station, 2 amazing shows, yummy food offering, gorgeous dessert spread and top-notch styling from Sweet Nest Candy Buffet and Events. Even though we had a very hard time dealing with THE VENUE, PRISM PLAZA's staff, I would like to commend all our suppliers for doubling tripling their effort. Talk about a buzzer beater moment, everything was done under 3 hours! Without further ado, check out all the note-worthy details of our very own take on My Little Pony-themed party.
These eye-catching rainbow arches were used to welcome the guests to the venue.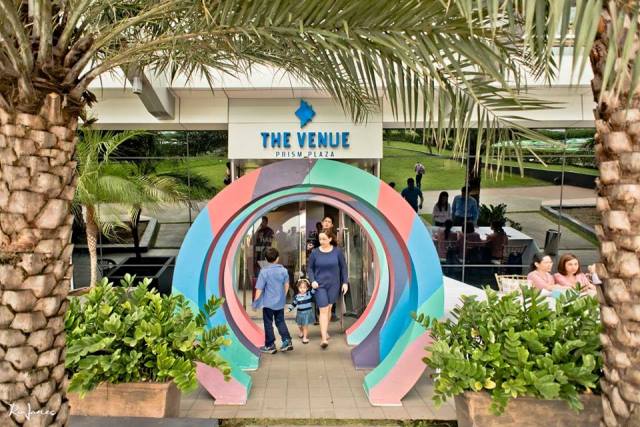 To give the ceiling a pop of color, these hanging pastel-colored paper pompoms and cutie marks did the job wonderfully.

Jaz of Sweet Nest Candy Buffet and Events really did an amazing job with the stage setup! Not settling for anything less, 3D My Little Pony characters were used to embellish the stage installation. I must say that I am very impressed with the over-all look of the set, every detail was done to perfection.

For the table centerpiece, these mini rainbow arch looks super adorbs! Of course, the set wouldn't be complete without My Little Pony dolls making an appearance.

This gorgeous dessert spread by Sweet Creations by Mums is one of my favorite stops here in this party. Why? Because aside from the lovely setup, every one of these desserts were not just yummy but also a treat to eyes! Be sure to check out the 3 cakes for our 3 little cuties. For Sandro's christening cake, we opted for pastel blue, chevron-designed, and topped with a rocking horse.

Exciting magic show by Leodini, mini concert by the Equestria Girls (Madison Events) and fun games by host Jojo kept the guests entertained through-out the party. They also got several foodcarts prepared for everyone to enjoy.

Guests were in for a real treat as they get to bring home different goodies as special party favors from the party. Themed alcogels, polymer clay jewelries by Provenance 1800, sticker galore, personalized tote bags and art kits!

For their shutterbug guests, this area here served as their selfie wall.

Again, sending our hugs and kisses to the Miravalles' family!


Vendors who made it all happen:
Event coordination: Party Doll Manila Events // Stylist: Sweet Nest Candy Buffet and Events // Photo and Video: Rio Jones Photography // Cake and desserts: Sweet Creations by Mums // Caterer: Josiah's Catering // Jewelry Station: Provenance 1800 Designs and Crafts // OTS Souvenirs: J&J Balloon Corner // Host: Jojo // Magician: Leodini // Entertainment: Madison Events