DIY Gluten-Free Birthday Cake
As we all know, the majority of baked goods are made using wheat flour. Prolamins (ethanol soluble) and glutenin are two types of proteins found in grain flour (ethanol insoluble). When these proteins are hydrated, they create a protein complex known as gluten.
The viscoelastic properties of the dough—required for the production of various types of wheat flour bread—are brought about by gluten. Some people who are allergic to gluten end up with celiac disease. This condition is an autoimmune disorder caused by the interaction of environmental, genetic, and immunological factors.
So, to play it safe and keep everybody happy at your party, check out this simple gluten-free birthday cake recipe we have for you.
How To Make a Gluten-Free Birthday Cake
This chocolate gluten-free vegan birthday cake is the thing! Try the recipe, and you'll be happy with the outcome.
Ingredients:
● 1 tbs of instant coffee
● 1 tbs of vanilla extract
● 3/4 (125g) coconut sugar
● 2.5ml of stevia powder
● 420ml soy or almond milk
● 15ml apple cider vinegar
● 150ml oil (sunflower or anything organic)
● 200g gluten-free flour
● 30ml sweet rice flour
● 70g sorghum flour
● 80g cocoa powder
● 5ml xanthan gum
● 7.5ml baking powder
● 3.5ml baking soda
● 1ml sea salt
Step-by-step Instructions:
Step 1: Preheat the oven
You need to preheat the oven to around 350 degrees Fahrenheit (180 degrees Celsius). Prepare two 8- or 9-inch (20-22.5-cm) round layer pans with parchment paper or nonstick spray.
Step 2: Mix
In a mixing bowl, pour the coffee, vanilla, coconut sugar, stevia, milk, vinegar, and oil. Mix using a hand whisk until the sugar is dissolved.
Step 3: Incorporate
Add the flour, cocoa powder, xanthan gum, baking powder, baking soda, and salt to the mixture. Mix until well combined and be careful to not overmix.
Step 4: Bake
Divide the batter evenly between the two pans. Bake for about 35 to 40 minutes until a toothpick inserted in the center comes out clean.
Step 5: Cool
Allow the layers to cool fully before removing them from the pan.
Step 6: Decorate
You can put frosting over the cake of your choice. For this last step, you can take a look at one of my frosting recipes.
This recipe calls for a lot of ingredients, so you can try making it without some of them if you can't find them. Xanthan gum, cocoa powder, and gluten-free flour are the crucial ingredients. The key to this recipe is using cocoa powder and vanilla extract to enhance the flavor of the gluten-free cake mix.
Final Thoughts On How To Make a Gluten-Free Birthday Cake
Making everyone feel welcome at your celebrations will be easier if you know how to bake gluten-free cakes and pastries, especially given the growth in gluten sensitivities. We really hope you'll enjoy this delicious cake recipe as much as we do!
About the author: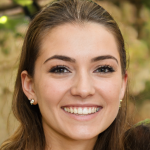 Karen Rutherford is founder and editor in chief at Cakedecorist. You will often find her in the kitchen trying out some new recipes. As a pâtissière and baking enthusiast, Karen has decided to share her knowledge with the internet audience and provide the best tips and recipes for baking and decorating your favorite sweets.