DIY Classic Birthday Cake Recipe
Are you bored making the same birthday cakes every year? Don't you think it's time to spice it up to make it more fun and exciting? Well, you're in luck because this Homemade Vanilla Surprise cake with Crumb Coating Frosting recipe will surely win the taste buds of your loved ones!
What you will need

Ingredients
● 2 cups of all-purpose flour
● ¼ baking soda
● 1 tsp baking powder
● 1 cup granulated white sugar
● ¼ tsp salt
● 3pcs egg whites (must be in room temperature)
● ½ cup sour cream
● ½ cup milk
● 3 tsp vanilla extract
● ¾ cup of vegetable oil
● Confetti sprinkles
Equipment
● Mixing bowls
● 3 x 6 inches baking pans
● Baking paper
● Rubber Spatula
● Offset spatula
● Bench scraper
● Measuring spoons
● Measuring cups
● Electric hand mixer
● Piping tip (869)
● Piping bag
● Weighing scale
● Round cookie cutter
Servings and Preparation Time

Cake: Vanilla surprise
Filling and Frosting: Crumb Coating Frosting recipe
Yield: 3 x 6 inches round pan
Prep time: 10 mins
Baking time: 30 – 40 mins
Decorating time: 40 – 50 mins
Step by Step Instructions
Step 1
Preheat the oven to 350°F then grease and line 3 x 6 inches round cake pans.
Step 2
Sift together all-purpose flour, baking powder, and baking soda in a large bowl. Then, add sugar and salt. Mix it all and set it aside.
Step 3
Combine the eggs, sour cream milk, and vegetable oil in another bowl. After that, add vanilla extract.
Step 4
In the middle of the dry mixture, make sure to create a well. Then, gradually pour the wet blend unto the dry ingredients, using an electric hand mixer to beat at low speed until mixed after each addition.
Step 5
Weigh the cake batter and divide it evenly between prepared cake pans. Bake it for 30- 40 minutes. Or, until the center is ready and the edges are just pulling away from the pan.
Step 6
Finally, let it sit in the cooling rack for two hours or until it is not warm to touch.
Tips and Tricks for Cake Assembly
Remove the cake from the pan and cut a hole using a round cookie cutter on the center on two layers, and leave one layer without an opening.
In layering or stacking the cake, you should firstly stack the layer with the hole on the cake board, then pipe a layer of buttercream on top of the first layer of the cake without filling the opening with buttercream; repeat the process on the second layer. Then, fill the hole with confetti sprinkles, stack the top cake layer.
Coat the cake with just a thin coat layer of buttercream to protect your cake from crumbliness. Let it chill in the cooler for at least 30 minutes.
Add your frosting or completely cover your cake with buttercream. Use an offset spatula to smooth the top and a bench scraper to the sides. Pull in with your offset spatula to complete the smoothening process. Chill the cake to firm the buttercream.
Use your hands to add some confetti sprinkles onto the bottom of your cake because the sprinkles make it more cheerful. You can use an 869 tip to pipe on your dollops.
About the author: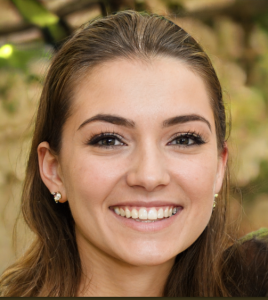 Karen Rutherford is founder and editor in chief at Cakedecorist. You will often find her in the kitchen creating edible works of art or trying out some new recipes. As a pâtissière and baking enthusiast, Karen has decided to share her abundant knowledge with the internet audience and provide only the best tips and recipes for baking and decorating your favorite sweets.