Hello Loves!
It's day 5 of the enhanced community quarantine in Metro Manila, how are you holding up? As the effects of the Covid-19 pandemic hit us, it's like the lives we so tirelessly built are instantly put on hold. I remember looking at my jam-packed schedule and trying to check the list one by one. From my family affairs to our business, to blogging and event coordination, I always have my day planned out while I prepared for the day. And just like that, everything needs to be put on the back burner or cancelled altogether.
This whole ordeal reminds me that "The Lord gives and the Lord takes away". That life, itself, is special yet unpredictable in so many ways. It's a reminder to be thankful for both small and big victories, to be grateful for the blessing of family and our loved ones, whether they are near or far, and to be happy with every blessing we've been given no matter how insignificant we might think they may be.
"Say to those who have an anxious heart, "Be strong; fear not! Behold, your God will come with vengeance, with the recompense of God. He will come and save you.""
‭‭Isaiah‬ ‭35:4‬ ‭
On the bright side, let us think of this as a time to reset our minds and focus on what really is important to us: spending time with our family; doing the things we've always been wanting to do but never had the time to; reflecting on our dreams and passions, and all those things that propelled us forward. And finally, I also believe that this is the best time to reset our hearts, to pray and to rebuild our relationship with God.
Here at Party Doll Manila we believe that: Together we CAN heal. Together we WILL heal. Let's fight COVID-19 by staying at home to help flatten the curve. Stay safe, everyone!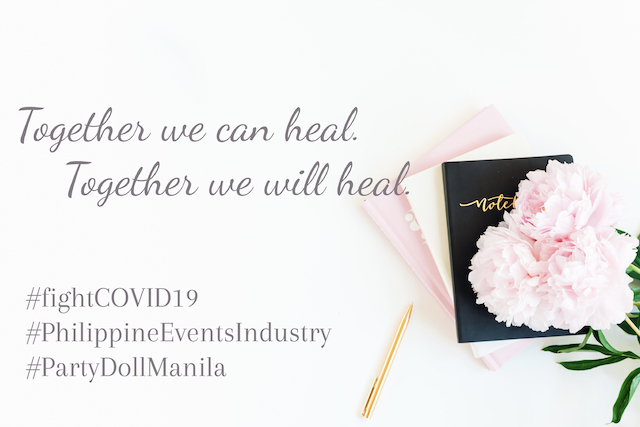 PS: We salute all the frontliners who are our real heroes during this challenging time. Thank you!