A charming theme with gorgeous desserts is one of our favorite pairings here in Party Doll Manila. With the addition of elements that are yet to be seen, this party hit the perfect party trifecta! So if you're like us who's dreaming to attend the next Coachella festival, for the time being here's Ellie's Coachella-themed party to get us into the spirit.
With dream catchers, teepee tents, fairy lights, flowers and all, I'm stoked to share with you guys another gorgeous Coachella-themed party. I don't know about you but I simply can't get enough of this theme and to be honest, I just can't help myself not to swoon over this lovely set. Oozing with so much chicness through and through, Coachellie's party is one for the books. With soft colors and oh-so-pretty details, Bluebox Design Studio did an amazing job bringing the whole bohemian chic vibe of Coachella to Ellie's special day. With prettier than pretty stage setup, you really have to see Ellie's dessert spread done by the super awesome Joanna of Cuppy Puppy Bakehouse. Everything and I mean EVERYTHING is simply mind-blowing fabulous! My heart beams just by looking at the photos which, luckily for us, Krissy of Little People Lifestyle Photography captured every angle exquisitely.
Is it safe to say that it's not a Coachella party without these guys – teepee tents, dream catchers and Coachella's beautiful Ferris Wheel (also known as Le Grande Wheel)? I'm glad to see that Ellie's party got all these and more! Using colors that are soothing to the eyes, the different prints and textures give the whole setup more of a pop. Another example of a beautiful mess, the knickknacks scattered around the stage made the setup appear to be fun and quirky.

I love their table centerpieces! Those floral wires in various heights look utterly beautiful; something I've never seen in kiddie parties before. I love how simple it looks yet perfect at the same time. The addition of succulents and cacti at the setup balances out the colors and immediately give off a nice earthy feel.

As for their alternative table centerpieces setup, these lovely single flower in colored water jugs injected a more fun and hippie feel to the party!

Because a gorgeous party deserves an equally gorgeous cake, see Ellie's cactus cake! Yes, cactus. As seen in the photos above, forget safe, forget traditional, Ellie's party is all about embracing fun, quirkiness and chicness. Oh how the details of this cake makes my heart flutter!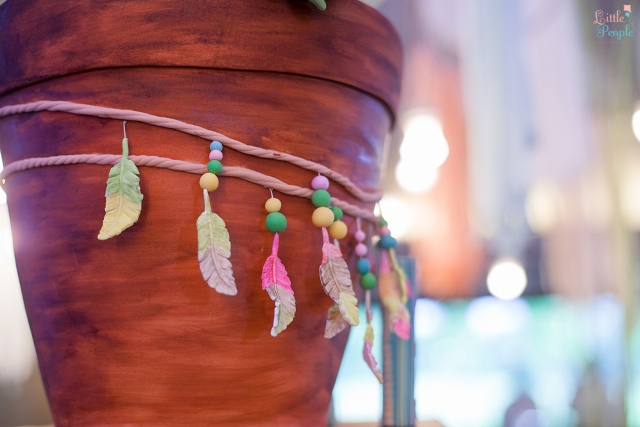 Ready for more gorgeousness? I do! If you think that you've seen everything Ellie's party has to offer, wait till you see her dessert spread offering. Cupcakes, Oreopops, rice krispies, cookies and cakepops all beautifully decorated. I can't even choose which one is my favorite! From the colors and designs to the tiny details, Cuppy Puppy Bakehouse made sure that every single treat is pure perfection.

Here's the little cutie ready to rock her party!

Vendor listing and reference:
Venue : Wack Wack Golf & Country Club (Pavillon B)
Event Styling & Coordinating: Bluebox Design Studio (email: blueboxdesignstudio@yahoo.com.ph)
Photography: Little People Photography
Cake & desserts: Cuppy Puppy Bakehouse
Picnic Bench: Windsor Crystal Chairs
Lawn Chairs: Botafogo Inc.
Kiddy Salon: FACADE
Food Carts: Potato Corner, Muscle Beach, Mr. Fluffies cotton candy and Don's Original Spanish Churros
Lights and Sounds: High Fidelity
Food: Food Details Inc