Bee Theme Party Ideas
Busy bees and bright, sunny days always go together. Imagine a garden abuzz with bees flying from flower to flower, then "waggle dancing" to their hive. A soft, rhythmic humming tells us that some gooey and wonderfully sweet golden syrup is being created almost like magic. If this image makes you smile, just wait till I show you about Ajavee's fantastic bee-themed first birthday that's busy with fun and swarming with surprises…
Ajavee's mom and dad pulled out all the stops for their darling daughter's 1st birthday. They got Dream Styling Events PH to do their own bit of magic and create the feel of a whimsical garden. The photos from MC Project will help the family remember this memorable birthday with the same delight and excitement.
Ajavee sent out some fun invites to family and friends to join the celebration.

For her party, they got her two flouncy, bee-inspired dresses – pretty stylish for a one-year-old, I might add.

Family and friends were greeted with a warm welcome at the entrance where they could read about Ajavee's "firsts" and favorites leading up to this milestone birthday. Like a page out of a storybook, they enter what seems like a garden walkway thickly covered in vines. 3D models of bees, some honey pots, and a hive hanging from the vines create an air of fantasy.

From the entrance, the same canopy of vines covers the party venue and conjures that feeling of magic. Black and yellow paper lanterns mingle with honey pots, hives, and bees. One really can't help but look up at the spectacular display. Under the gorgeous installation, the tables were tastefully covered with topiaries filled with exquisite white and yellow flowers that echoed the magnificent walkway. A picture of dear Ajavee completed the awesome centerpiece on the tables where the grown-ups dined.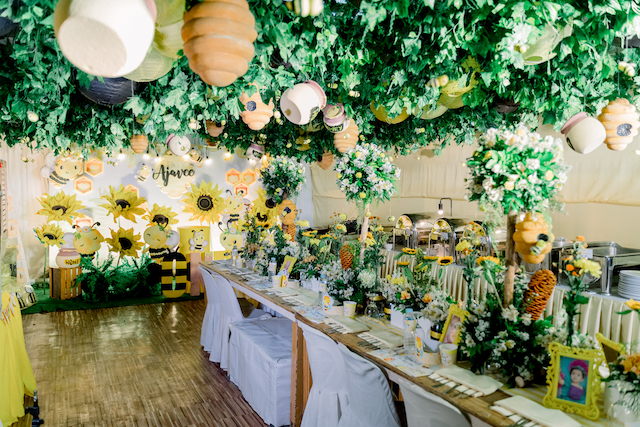 The stage is bright with a garden of giant sunflowers and a swarm of the cutest and happiest looking bees announcing that Ajavee is a year old today.

The kiddie tables had the same flower arrangements but with the addition of adorable bee placemats and matching paper cups, napkins, and party hats that appealed to the children's sense of fun.

Ajavee had a three-layer cake in different shades of yellow and decked with cute fondant bees hovering over some pretty flowers. A black and white polka dot ribbon is elegantly knotted around the base of the cake, and a beehive with a swarm of bees on springy wires around it stands at the top. What's not to love about this cake? It's simply delightful!

Everyone certainly made a bee-line for the dessert spread. Sugar cookies and cupcakes with the cutest designs were available to please any sweet craving. There were cake pops that looked like cute chubby bees while others were simply pretty with a solitary white flower.

Guests were also treated to some scrumptious snacks while they enjoyed the festivities.

What is a Pinoy birthday party without the traditional "pabitin"? Wide-eyed and excited, the children scan the toys and treats they should aim for. What a thrill!

After enjoying the feast and celebrating with Ajavee and her family, her young friends took home some great giveaways like handy dandy bags, pillows, and even face masks with the cutest bee designs. They also took home a personalized mug with a hand-crafted clay design of a grassy, flower-laden garden complete with bees hovering about.

Isn't this a smile that can melt anyone's heart? With hope and a prayer, may that smile be ever on this beautiful child's face and her doting parents as well!


List of suppliers
Venue and Paper Bags: APPP.Co | Event Stylist and Food Carts: Dream Styling Events PH | Photo and Video: MC Project | Caterer: Passion Cooks Catering | Dessert Table and Cake: Box of Sweets by Punky Porca | Kiddie Bag Souvenirs, Mask and Invitation Layout: Hello Rainbow Goodies | Cake Topper and Personalized Bee Mugs: Artisan Mom Crafts | Bee 3D logo for paper bags: Dessert First | Baby bee dress: Jary K. | Baby Headpiece: Mipopola Headbands | Baby Bee Romper: Little Ela | Mommy dress: Styling by Yvonne Camay | Personalized bee shirts: Transfer It | Dirty Ice Cream: Sumilang Ice Cream | Virtual Photobooth: Clique Photobooth | Milestone board: I Saw Design