Disney Pixar's Coco Theme Party Ideas
Who would've thought that Dia de los Muertos, or Day of the Dead, could be an awesome party theme? When done with Pixar's Coco as peg, expect a colorful, whimsical one at that! Done in vibrant shades and tossed with tons of Mexican elements, li'l Aben's first birthday festivity was truly a fiesta for the eyes. Bespoke Manila did it again in making sure that even the smallest detail had the biggest impact, and frankly speaking, we loved everything about it! Scroll down to see more of the eye-popping snaps from the day's charming event!
Coco isn't Coco if Miguel didn't have his guitar in tow, a song in his soul, and beloved mutt Dante. That's how Miguel appeared on the invites, encouraging everyone to join the wonderful merrymaking on the day Senorito Aben turned uno! Spot the papel picado on top, muy bien!

Mexicans are famous for their lively holiday, so it's not surprising that this became the focal point of the fete. Guests were welcomed with bursts of oranges, pinks, yellows, blues, and violets as the entrance was adorned with brightly colored balloons, paper lanterns, and flower décor! Rather than a flurry of banderitas overhead, guests had to pass through a vibrant, multicolored curtain that gave hints of fun times inside. And what better way to kickoff the festivities but with some sombreros for the visita?

There's no mistaking that this was a Pixar-inspired celebration as Aben's name was done in the same font as Coco's in the film, making us recall the catchy tune of 'Remember Me'. It was an adorable backdrop that deserves to be in the foreground, mind you!

Each table had a cute plushie of characters like Miguel (of course!), Dante, and Hector as its centerpiece. Honestly, we're totally smitten with everything that's laid out on the tables! Along with a box of beautifully arranged vibrant flora and other musical instruments to complete the ensemble, the charming décor was truly a lovely nod to Pixar's breathtaking Mexican masterpiece! And yes, we couldn't agree more!

Sugarplum Pastries never (as in never, ever!) failed to impress us, and they delivered—again! Senorito Aben's cake was a two-tiered confection that's giving us a serious Coco-inspired vibes. From the brightly colored elements to the wonderfully detailed maracas, guitar, and cacti, it was creativity galore and so much more!

Colorful and vibrant pinatas, sombreros, maracas, and guitars all make the dessert spread such a fiesta to our eyes! From delectable cupcakes to scrumptious cookies, everything is too 'muy bien' to just gobble up in one go! We love how the tiniest details made them all the more irresistible and totally Instagram-worthy.

And if cupcakes, cookies, and cake pops aren't up your alley, there are churros for everybody! Bite-sized churros go well dipped in chocolate so take your pick between two luscious fountains to truly enjoy the lip-smacking taste!

Of course, there's something for those who prefer savory over sweet, which is a charming thought for the guests. Crackers and different cheeses like Edam and Danish Blue Cheese make for delectable appetizers—and to cleanse the palate, pop a grape after.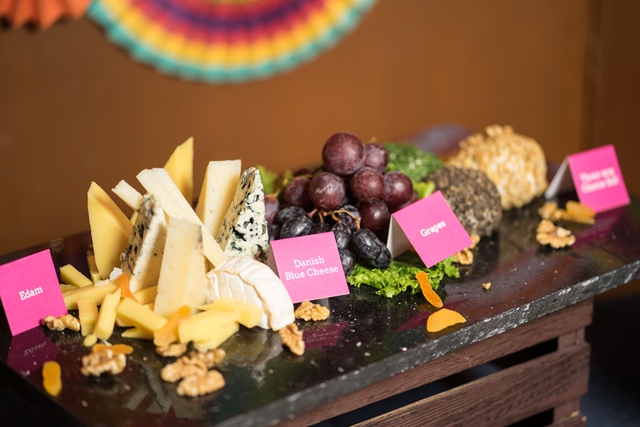 Looks like Aben's guests had an el grande time at the celebration. There were activities and games to keep the young visitas as busy and entertained as possible! Peals of laughter and hearty giggles were pretty much obvious during the event.

Apart from the sombreros with name tags, guests get to take home a cute Coco-inspired loot bag filled to the brim with yummy snacks and goodies. We spot some kiddie favorites and ours as well!

Cheers to li'l Aben, our charming el chico who looks happy at the party. Aben and his familia were happy and filled with gratitude to everyone who made time to celebrate such an important milestone with them. And like the theme of Coco, family is everything.


Vendors who made it happen:
Full planning and coordination: Bespoke Manila // Decors: Sweet Net Events // Photos: Gatz Creatives // Cake and Desserts: Sugarplum Pastries // Host: Marvin Tomandao of The Jive // Invitations: Designed by Ria Pascual of Bespoke Manila // Reception Venue and Food: Manila Polo Club