L.O.L Surprise! Theme Party Ideas
L.O.L. dolls have it all: they're bright, fun, and sassy. It's no wonder Samara requested an L.O.L.Surprise!-themed birthday party for her seventh birthday. I'm sure we're in for a dose of gorgeousness with Pretty Little Details Events and Styling in charge of the styling! Prepare to peel seven layers of surprises as we explore Little Coeo by Bella Morcen's stunning images.
Three L.O.L dolls greeted guests at the entrance. And, yes, even the extremely rare Queen Bee Doll was also present to celebrate the occasion. The door opened to reveal a space that resembled a dazzling and fun playhouse.

The ceiling was covered with brightly colored balloons that reminds me of my favorite candies. The result was stylish meets cute, and it did not disappoint.

The stage was simply mesmerizing. Samara's party looks extra fancy with all those life-sized L.O.L. dolls awesomely decked out the stage setup. Just take a look at their massive eyes and vibrant colors. They're truly a sight to behold, aren't they?

The tables and chairs were dressed in pink and blue linen covers to match the theme. How adorable are the L.O.L. dolls that serve as table centerpieces? You can choose your favorite doll and sit right by it.

The cake is probably my favorite detail at Samara's party. It was a three-tiered work of art, adorned with all things bright and cheerful. Everything looked very stylish and sassy with the burst of sparkling pink and gold.

Samara's birthday celebration is indeed full of sweet surprises. The dessert spread featured a selection of Instagram-worthy sweet pastries with pink and blue icing to satisfy cravings for delectable nibbles.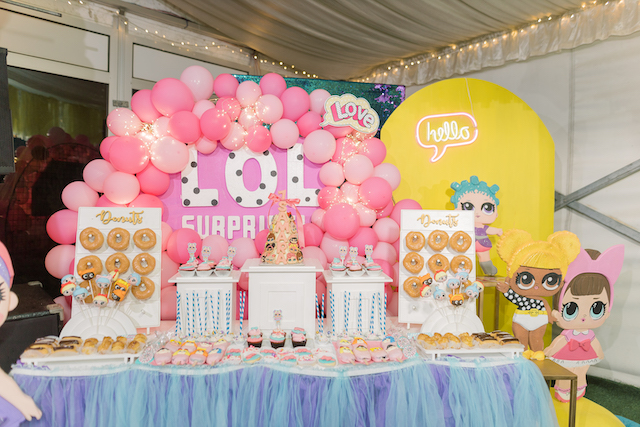 There were no dull moments at the party, as guests were treated to a variety of entertainment.

Samara also made sure there were kiddie activities for her friends, such as nail and body painting to channel their inner L.O.L.

Guests were encouraged to stop by the food carts area for some ice cream, cotton candy, and a happy cup.

There was a plethora of fantastic goodies to be given away as prizes at these entertaining game booths.

Each guest received L.O.L. beanbag chair souvenir and a goodie bag full of candies at the end of this fun and amazing event.

Dressed up and all glammed up like her favorite L.O.L. dolls, here are some of our favorite photos of Samara and her lovely family.


Vendors who made it all happen:
Styling: Pretty Little Details Events and Styling | Photo: Little Coeo by Bella Morcen | Video: Bella Morcen Films | Coordination: Sherry Ann Blanco & Thesa Flores | Host & Performers: Team Gen | Entertainment: Tectonix – The Dancing Balloon Show & Alab Poi Fire and LED dancer | Carts: Happy Cup, Pouf Cotton Candy, Merry Moo Ice Cream, Potato Corner