Today's sweetness is brought to us by this lovely and not to mention over-the-top cute "Dainty Little Bakeshop" themed party. What's not to love? Styled by Kathleen of Spark + Twinkle, I'm beyond thrilled to bring you this detail-filled festivity that was perfectly captured by Jo Lim Photography. Sprinkled with Kathleen's magic dust and some DIY labor of love by Hailey's parents, they surely made this party a sight to behold. From Hailey's highly-anticipated dessert spread to the unusual party details injected all over the venue, expect to see the unexpected. Actually, there are so many pinterest-worthy ideas here! Curious, keep scrolling down because I know it'll be hard to resist.
Here's Christa explaining the whys and whats of her daughter's gorgeous bash:
"Three years ago, we started a small home based baking business called La Petite Chef. The inspiration of the name and colors of our baking business was our daughter, Hailey. Baking has become a family bonding thing for us and Hailey loves helping out – from measuring, mixing and even packing.
When we were thinking of a party theme, we knew we didn't want a character/cartoon themed party. We wanted something unique and related to what Hailey enjoy doing and that gave us a wonderful idea. Let's do a Little Bakeshop / Baker party! The concept we gave Kathleen of Spark+Twinkle for the event setup was that it should have a fun and dainty feel the moment our guests entered the venue. We also wanted an activity that's related to the theme so we got cookie decorating for the kids from Party Starters. All the food carts are Hailey's favorite snacks, too! We got Potato Corner, Nacho King, Serenitea and dirty ice cream."
How cute is that? Check out this uber cool 1D detail at the entrance. Have you seen anything like this before? No? Neither have I.

From the stage backdrop to the ceiling details, the sketch pad-ish idea works amazingly pretty! Everything looks fantastic, such an eye-candy!

The flowers added a nice girly feel to the ambiance. It's a simple and effective way to instantly spruce your table setting.

You can't fail to love Hailey's eye-catching cake on cake birthday cake (makes sense?) and all those yummy-looking and perfectly crafted sweet treats.

I can't imagine a more perfect baker themed party activity than this – decorate your own cookies.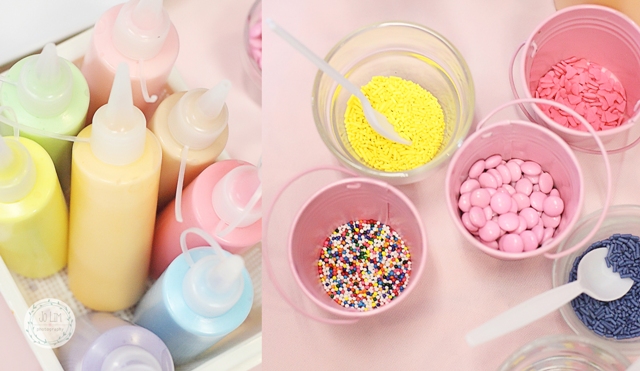 For the giveaways, these DIY prettified jars filled with more sweets look great.

Here's pretty Hailey and her wonderful parents.

Vendor listing and reference:
Venue: Ayala Southvale Village – Sonera Multi Purpose Hall
Stylist: Spark + Twinkle
Photo Coverage: Jo Lim Photography
Cake and dessert spread: Sugarplum Pastries
Invites and Giveaways: DIY by parents
Party Host Bobi Magicman
Caterer: Center Table Catering Inc.
Cookie Decorating: Party Starters
Food Carts: Serenitea, Potato Corner, Nacho King, Dirty Ice Cream by Mr, Sun Kiddie Party Com Inc.
Party Coordinator: Gold Jacinto