F-I-N-A-L-L-Y! A cops and robbers themed party that's too fascinating not to share with you guys. Because I'm all for quirky, non-traditional themed parties, this is something I've been waiting to see – The ultimate good meets bad with a delightful kiddie spin! Of course, I can't contain my excitement the moment I received the full set. With the help of Design Avenue and Little People Lifestyle Photography, let's go on a little crime fighting adventure and be on the look out for the little cutie, Chase. (Not that he's into some sort of trouble but his overwhelming cuteness warrants a hug arrest from his mom and dad.)
The moment the guests entered the venue, the "POLICE LINE DO NOT CROSS" tape can be seen everywhere. I also like to note that those adorable "wanted" posters featuring Chase wearing different costumes completed the whole good guy/bad guy feel they were aiming.

Handcuffs, gold coins and several bills were used as table centerpieces; details that are very well associated with the theme.

So, which side are you on? Good or bad? Cops or robbers? Donuts or chocolates? Donuts! I chose donuts. Teehee!

Since we're on the topic of sweets, just look at Chase's too-darn-cute cake created by Tazzy Cakes. I specifically like the bottom tier which showcases the same "wanted" posters used around the venue. Completing the yummy line up were the cupcakes, cakepops and cookies.

Judging by these photos, the kids had a grand time playing games and watching the Mad Science show.

The kids get to have their very own nameplates as party favor. Come on, how cool is that? On the spot personalized nameplate souvenir station by Handicrafts Atbp.

Chase's first birthday bash is indeed full of details that guests can actually have their photos taken here: (as modeled by Chase and his wonderful parents)

Here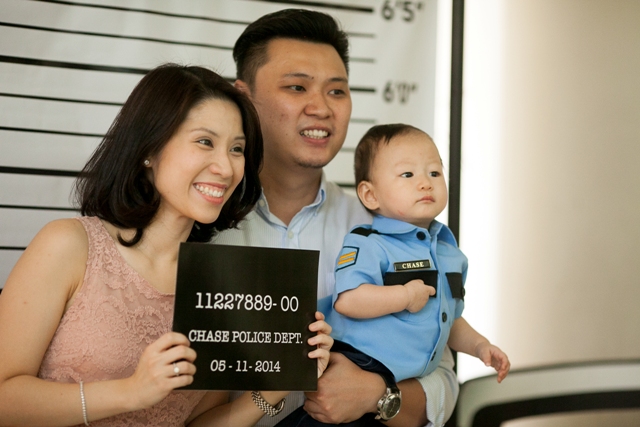 and here

Vendor listing and references:
Venue: West Greenhills Clubhouse
Event Styling: Design Avenue
Photo Coverage: Little People Lifestyle Photography
Cake: Tazzy Cakes
Catering: Golden Cape Catering
Sweet treats: Michelle Sy
Personalized Name Plate Giveaways: Handicrafts Atbp.
Host: Arvin Atayde
Entertainment: Mad Science Ph