Oh…how I love Basti's bear-y cute nautical themed party! Styled by Passion Cooks Catering, I'm so happy to see that they've decided to stick with the simplicity of this theme. Keeping the details low-key all throughout the venue adds more elegance and charm to this special affair. I just love how refreshing everything looks. Come and sail away with me to Basti's dedication party with these exquisitely captured photos by Little J Photography.
From the traditional white and blue color palette that sailors are accustomed to, they added a little splash of some red details here and there to make it more striking.

The backdrop is pure L O V E! From the wave-like effect on the floor, to the cute 3d sailor bear and what about Basti's letter standee on top of the boat? Every detail is brilliantly executed. Ahoy, matey!

Overflowing with little details like these cute miniature lighthouse, boat and beach chair, the flowers bring the whole centrepieces together to something more delightful.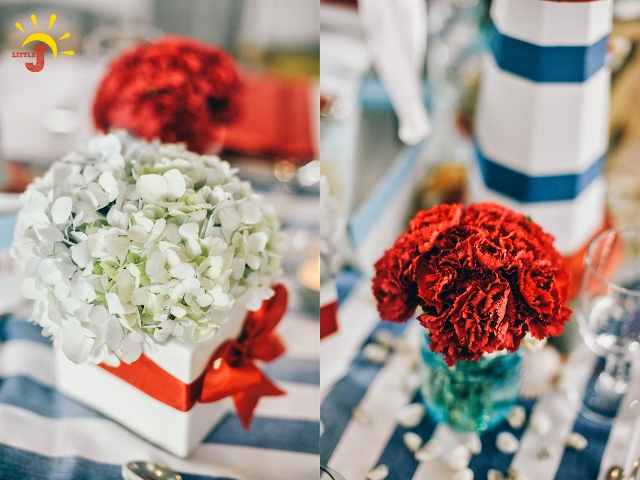 Basti's dessert tablescape looks mighty fine, too! These aptly decorated sweets matched with the whole theme perfectly.

Here's darling little Basti all set for his cruise in his cute sailor outfit.

Vendor listing and reference:
Venue: Main Social Hall of the Residences, Greenbelt
Caterer & Styling: Passion Cooks Catering
Photography: Little J photography
Sounds: Trebor Pro Lights and Sounds
Cupcakes, SugarCookies & Cakepops: Swell Sweets Confections
Macarons: The Cookie Jar
Assorted cookies and cookie cups: Cookierrific
Mini cakes for Godparents: Bohemia Cakes & Pastries
Invitation and Personalized Chocolate Wrappers: Print Avenue